Allard is the solo project of guitarist, bassist, singer, and songwriter Jake Allard, who is also a member the band Christian Shields. The project's single, "Heresy", boasts very confident vocals and rich harmonies, intense guitar riffs, and expansive instrumental passages that charge the song with dynamics and atmosphere. The track is a strong AOR offering backed by interesting arranging twists and a unique atmosphere, which is obviously sustained to a degree by the splendid studio work by Jake Curtis Allard and the complementary playing from the features – drummer Dicki Fliszar (Jack Russell's Great White, Blazin' Haze), vocalist Ara Kevakian (Nightrise), and bassist Gabe Maska (Budderside).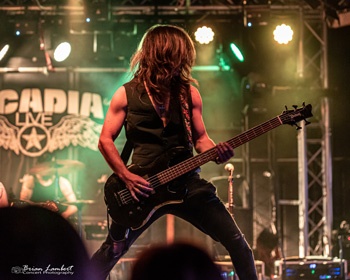 Jake Allard, who plays all the guitar parts on "Heresy", says the song came to him in a nightmare years ago, and he decided to bring it to life. If you were to ask someone to describe the best sounds of classic 80's rock, you could take a fair stab at what they might be thinking. Strong heavy-hitting vocals, driving guitar rhythms, dynamic synths and a plethora of catchy choruses. In 2022, you could simply answer, "Heresy" by Allard.
Though the project absolutely sounds in the here and now, there is no denying that Allard has somehow managed to capture that 80's, anthemic and melodic magic, in its sound. This becomes apparent from the opening bars.
Kinetic rhythms, a powerful drumbeat and the constant ringing of rock guitars, all get thrown into the mix, to brew up that familiar sound of rock and roll sound. In fact, I'd have to say that this new record could easily be called a classic, because that's exactly what it sounds like.
The beauty of it all is that Allard comes by its sound honestly: there is no posing involved, it is not derivative, it's just the way Jake Curtis Allard makes music. "Heresy" is beautifully executed and impeccably crafted.
The vocal harmonies are gorgeous, and the sound is lush and rich. The lead vocals are strong and mellifluous, the drumming shines in the background, while Jake Curtis Allard's guitar-work is as polished and soaring as it can be, and the basslines just rumble and shimmer throughout.
"Heresy" is the kind of music that simply feels good to listen to, and if you're around my age, it might also cause some serious flashbacks. Especially when you realize how so few bands are able, or even willing to create guitar-driven music with this kind of sophistication and outstanding craftsmanship today.
There are moments when Allard puts its foot in prog-rock territory, but without ever entering the pretentious zone. There is just enough complexity to convince you that Allard is on an elevated level.
"Heresy" might be Allard at its most inventive – a project exploring contemporary avenues while keeping the elements of classic rock that fans love most. What makes Allard so compelling is its ability to take its players' technical prowess and surround it with an abundance of ear-warming, radio-ready hooks. "Heresy" certainly shows off all the cumulative abilities of Jake Allard and his featured crew.
OFFICIAL LINKS: STREAMS – APPLE MUSIC – SPOTIFY – INSTAGRAM – FACEBOOK – YOUTUBE
Please follow and like us: