George Pappas, who performs as Alien Skin, is a former member of Real Life. The Australian synthesizer band that topped 80s charts with their million seller, Send Me An Angel. Alien Skin's latest album "New Romance: 1984" seems to continue where his previous release left off, but it's more than just a synth-pop album. In fact much of the album centers around moodiness and feelings of haunting darkness. If you're prepared for intensely atmospheric synth-driven tracks then you're in for a treat. Also, Pappas' voice has leapt up another notch, giving the album a stronger feeling of passion and undoubted class. The analog synth sound which rises to near meteoric proportions around the recording is perfect for Pappas' voice. Apart from a couple of songs, Alien Skin skillfully avoids the temptation to move to overly up-tempo rhythms and remains locked into heart stopping pieces of music.
From the opening tones of first track "The Rubber Room", an intense slab of powerful bass lines and mellifluous vocals, to the rising phoenix-like sound of "She Looks A Lot Like Martin Gore From 1984", and the shifting dynamics of "She's Glass", "New Romance: 1984" quickly establishes that there is plenty of life in Alien Skin yet, and that he may also have found a perfect partnership in these tempered soundscapes that will bear rich fruits for the picking in years to come.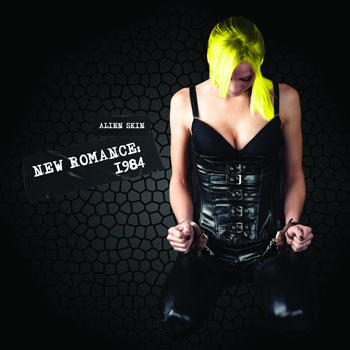 Alien Skin sounds emotionally powerful and drives "When The Wind Blows Mary" forward over a cinematic sounding landscape of well-crafted instrumentation. The best songs are those where the tempo is slowed right down, a prime example being "Darkroom Sanctuary" where Alien Skin is accompanied by a resonating bassline, soothing synths and a beating drum and it is beautiful in its tuneful simplicity. "She Lives In Tunnels" puts Alien Skin's name, and his searching, dependably anguished croon, out front for all to behold, amidst gritty synth riffs, loping rhythms and a spirit that glows.
The lusciously orchestrated "Dreams Of A Boy" provides fine backing to allow George Pappas' voice to sound as good as it has ever sounded in his entire solo career. "Stay Away From The Lollipop Clown", benefits from superior songwriting and an easy, natural chemistry between music and vocals. The underlying melodic layers in this song have smooth, clean, fluid lines that are stacked by synth stylistics and new romantic laden electronica.
On "Waiting For Heaven", Alien Skin's lyrical motifs are introspective while hovering above the emotions being displayed in the lyrics. The music produces a swirling sieve of synth-textured atmospherics around Pappas' melodic vocal rises and falls.
Alien Skin fuses a number of retro elements into his music while being steadfast to the nostalgic and inflaming synth chimes. The songs on New Romance: 1984″ show large factions of '80s new wave and synth pop with dark formations. It is music that doesn't feel dated but uncovers roots from the past backed by Alien Skin's refined handling of his shimmery vocal keys.
As an artist George Pappas, alias Alien Skin is a serious performer, and this is a serious album. There is something incredibly raw and authentic about "New Romance: 1984″. Outside of the legendary Depeche Mode and Gary Numan, who are still around doing their thing, it's a distinctive sound that not many can pull off today. The album is set to be released February 21st on the ScentAir Records label, Moscow.
OFFICIAL LINKS: WEBSITE – FACEBOOK
Please follow and like us: