In clubs across the universe, you can hear it: the sound of EDM plummeting to its nadir. Sorority girls monologue-ing over brain-dead beats, some trendy producer re-appropriating himself of a classic hit front the past in a manner that makes Gangnam style sound as transcendental as any legendary progressive rock track,  – it's enough to make you never want to hear a synthesizer again. But take heart, for like a neon-splattered beacon of hope, arrive on the scene David Hugh Sempier and James Linton, collectively known as Untitled Art. It's reassuring, then, that there 2017 single gambit 'Philly To Long Branch (part 2)' sounds unmistakably like a breath fresh air. From its growling synth swells and not too cryptic lyrics, to the bit that sounds like someone taking a chainsaw to Martin Garrix's laptop, it's as wide-eyed and exhilarating as anything they've produced previously.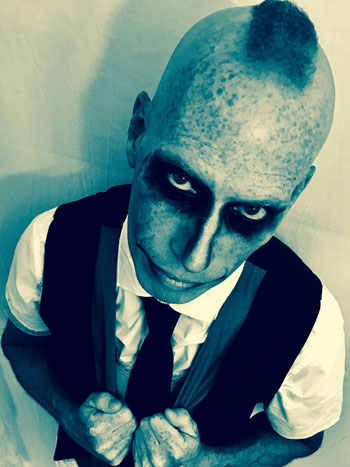 Untitled Art have made quite a savvy record, successfully aligning themselves ahead current musical trends and assuring their continued relevance. 'Philly To Long Branch (part 2)' might not be enough on its own to lift us from the doldrums of repetitive EDM – but it's always refreshing to hear Alternative dance music with a human heart at its core.
Untitled Art succeeds in combining abrasive synth textures with their own brand of flighty mysticism to hypnotic effect. Occasionally loud, brash, chaotic and very, very enjoyable – The energy and ambition can't help but win you over, its inherent exuberance becoming its calling. It'll also bring in a few new fans that want something fresh to dance to, as Untitled Art seems to exist in a completely different realm to mere EDM earthlings when it comes to their music.
David Hugh Sempier and James Linton are from some kind of Darkwave and Industrial continuum, so it's futile to compare them to any EDM acts because they're in different stratospheres. They simply don't compete on the same plain – 'plain' being the operative word when it comes to some of their colleagues.
Untitled Art are at their best when they transport us between the dance-floor and some nu-rave hangover. Stylistically, the duo has more in common with art rock revivalists than they do with a crop of dance-punk outfits. But they fit nicely somewhere in the middle.
In the age of acoustic-pop pretty boys and talentless electro-halfwits, Untitled Art are a much needed part of the modern music scene right now – though there's obviously still room for improvement, they have carved a new path to follow.
OFFICIAL LINKS:  BANDCAMP – SOUNDCLOUD – TWITTER
Please follow and like us: