Sophia Radisch is a 17 year old singer/songwriter/musician and actress from Ottawa, ON Canada. A member of SOCAN, SAC and CARAS, Sophia is also Director, Co-Founder/Co-Owner of Rock Solid Talent Entertainment, and is represented by Rock Solid Talent Entertainment Record Label. Sophia Radisch has co-produced her second album "BEAUTIFUL SIN" with Glen Drover, formerly of Megadeth. Glen is also the guest guitarist on this album, which also features Shawn Drover as guest drummer. Sophia, who has composed over 150 songs to date, including 3 professional song-writing collaborations with Music Hall of Fame song-writer, publisher, music journalist and producer Larry Wayne Clark, dropped the 13-track "BEAUTIFUL SIN" album on the 7th of January.
At only seventeen, Sophia Radisch is the kind of songwriter and performer blessed with a golden voice and universal appeal who understands her musical vision and brings an undeniable talent to the process. She's a joy for any listener to discover – a soul trader in genuine energy, aiming straight for the heart. Sophia turns a watchful eye to the pageantry of emotion, the drama of love and the mysteries of everyday life with a disarming mixture of sincerity and cosmic insolence, unapologetically romantic, spinning golden threads of lyric and melody, each inflection and melisma planned and considered, each word tailored for meaning and effect. She delivers it all with carefree charm and nearly divine intuition. Her voice, at times so ethereal, is shot through by strength and sinew and just a hint of transient grit. The feeling is cuts deep, leaving any listener thunderstruck and enchanted.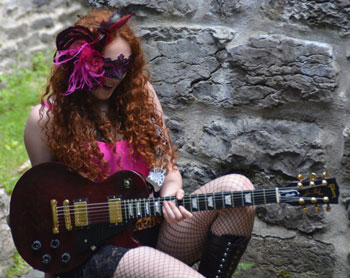 Throughout "BEAUTIFUL SIN", the musicianship is impeccable. Sophia has assembled top-quality collaborators and suite of superb tracks which are confessional in nature but remain uplifting. The magical mixture of musical flourishes and Radisch sweetness is epitomized by the opening track "Come Around" – a song which sounds structurally simple but achieves a melancholic pop bliss that many more established artists never reach – and the crunchy, driving rock-guitar rhythms of "Give Me Me Your Soul". There is also plenty of variation with tracks like "Hot Blooded", "Raining Fire", "Closed Doors" and "Saint" heading off into acoustic and electric rock orientated territories where Sophia Radisch proves she is the major landowner.
Sophia Radisch has proved that it is possible to delve into a well-known musical tradition whilst infusing it enough modernity to be highly relevant, and thereby pushing that same tradition in a forward direction. It would be easy to argue that with all the consummate musicians present on the recordings, it would have been difficult for Sophia to make a bad album. Looking through another lens however it is clear that Sophia Radisch inspired these players and musical technicians with her music and they perfectly complimented her beautiful vision. "BEAUTIFUL SIN" is a truly great alternative pop-rock album and one which you will want to seek out post haste!
OFFICIAL LINKS: WEBSITE – ITUNES – YOUTUBE – FACEBOOK – TWITTER – INSTAGRAM
Please follow and like us: