Henry Metal debuted in late March of 2017 with the release of 2 singles which was then followed by the albums; "So It Hath Begun",   "Wizard Vs Demon" and  "The Maestro Abides". "Metal O'Clock" is Henry's fourth collective offering is again an extremely engaging, epic and anthemic recording which never loses its caustic tongue-in- cheek, confrontational edge as it  investigates government ineptitude, consumerism, drug abuse and cosmetic surgery, as well as and pays homage to the Swedish Viking gods Odin and Freyja.
Henry Metal is, to put it simply, stunning. His singing is melodic, yet has just enough grit and low end to it to keep it from descending into true 80's cliché. He throws out soaring, epic choruses left and right, and bookends them with a nice mix of slightly gravelly energetic verses. When it comes to toning it down for the odd slower tempo change, he's equally flawless, adopting a subdued and happy, nostalgic tone that you can't help but smile at.
There's plenty of energy all the way through this record, and a wide enough variety of song styles to keep the listener's attention from start to finish. This is an absolutely brilliant hard rock recording. Personally, I can't help but love this album for its brash, shameless approach to the act of simultaneously vandalizing and paying tribute to old school heavy metal and hard rock. "Metal O'Clock" is revolutionary enough to be a classic in its genre, with hardly another band in sight who seems to be manipulating or capable of this type of thematic material.
Henry Metal displays more than his fair share of guitar chops throughout the run time of the album; his solos are often blistering, whammy bar fueled shredding affairs that belie the satirical nature of the material. His bass work on the album is extremely well performed, and coupled with the more than competent drumming, there's plenty to keep fans of old school and contemporary heavy metal thoroughly entertained. But it's both the voice and the lyrics that burn Henry Metal's music into one's brain permanently. And here's where the album truly shines.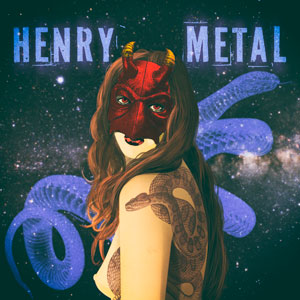 Taking Henry's song titles alone, I think that the band would be something special – "Thrash Your Head", "Thank God for the Government" and "Addicted to Junk", already tells you what's going on inside these songs. This is easily the project's most mordant and diverse offering to date, Henry's confidence coming out in full force this time around. Listen to how he layers the instrumentation and then assails the melodic vocals on "Odin" and "For The Love Of Freyja", where he closes the track down with an electrifying guitar skirmish.
Lyrically, the ante has seriously been upped on "Addicted to Junk", where Henry Metal forges all his satirical skills. Henry often sings the exact opposite of what he means, so take special care to capture his messages. But it doesn't end there, as "Addicted to Junk" also showcases Henry's vocals which switch from a melodic whisper to a rustic roar and then into full bodied harmonies.
 "Plastic Surgery", on the other hand, puts forth more of Henry's guitar playing skills which are immense, regardless of whether his simply riffing or soloing.  This is a powerful double penetration of both voracious lines and bitchin' riffage that just can't be ignored.
When you get down to it, "Metal O'Clock" is just another fantastic offering by Henry Metal… but in some ways, it goes further than that. This album is so damn engaging, even when compared to the Henry's other brilliant albums. If you liked the band's previous works, you'll absolutely love this one… simple as that!
OFFICIAL LINKS: WEBSITE – FACEBOOK – TWITTER – BANDCAMP
Please follow and like us: