The very first thing I learned while listening to the album "Rise of the Voluminous" by eclectic folk artist, Chaz Hearne, is that the defining question regarding any Hearne song is which Chaz Hearne he'll be. Will it be the introspective, contemplative Hearne of slow-burning masterpieces like "Falling For Reason" and "Hount The Jab"? Or will the party-starter behind "Fun In '82" poke his head out, armed with flash phrases and funky beats? Or maybe he will just activate his progressive art-rock mode, as on "Voluminous Man" and "Spicy In The Dim Halls" – catchy, complex, yet ultimately armed with a sort of weightless. Of course he could just slip into the sprawling dreaminess of "51 With the Crusts Cut Off" (Feat. Carrie Allen), or the more stripped-down and folksy "Older".
The truth is, the Rochester, New York based musician, Chaz Hearne, is no regular folk artist, in the classic sense of the title. His music is certainly rooted in folk elements, but Hearne points his creativity in quite a few different directions. Built around a collection of organic instrumentation, "Rise of the Voluminous" is a weird new classic, sneakily inventive and massively engaging.
Hearne is a master of infusing his signature essence into whatever styles he wants to play with at any given moment, and that remains true throughout the 8 tracks on this album. Though to be honest, with a gloriously distinctive high-pitched voice like his, it would be sufficient just to open his mouth and sing, for any song to have Hearne's signature essence.
But as an artist, Chaz Hearne doesn't just sing divinely, he plays his favorite instrument, the banjo, as well as the guitar, piano, violin and singing saw, when needed. Hearne's artistic integrity and spirit are deep-seeded in this record. His melodies and music arrangements are a dream. They do all the things that you wanted them to do, but never expected a record like this would do.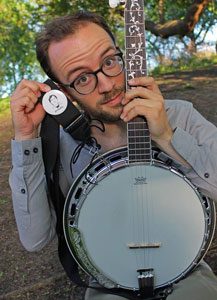 With its wide-ranging sonic assemblages cut with oblique texts, "Rise of the Voluminous" is "a reflection on privilege," explains the album's liner notes, continuing: "While touring the lands, one of the Voluminous learns the complicated levels of inequality of which he had previously been ignorant as one of the elite. He discovers the history of his people; how they have kept themselves on top while turning the rest against each other. How their power created the Voluminous Man."
The lyrics are interesting and evocative, the production strong and full. Musically "Rise of the Voluminous" sounds like folk writ large, with expansive and full instrumentation where decades ago there was only a voice accompanied by guitar. This is the evolution of folk into a progressive era, while still maintaining its roots.
It's an all-embracing masterpiece that sweeps as it coaxes the mind into a perfect mix of uplift and rest. This music is not a quick fix to simply fill the empty void inside your head, although it could be if that's what you ultimately desired — rather, toward the patient listeners, "Rise of the Voluminous" will resonate and reflect something intensely profound and uniquely affecting to each individual user.
OFFICIAL LINKS: WEBSITE – FACEBOOK – YOUTUBE – TWITTER
MUSIC STREAMS: WEBSITE – BANDCAMP – SPOTIFY – SOUNDCLOUD
Please follow and like us: