Daddy Slaggy is a Reggae dancehall artist/songwriter inspired and nurtured by the vibrant 90's dancehall and Afrobeat entertainment industry. Now signed with RehegooMusic Group for all streaming & distribution and previously signed to Neville Barnett's Wolverhampton Reggae label AD2000 (2002-2004) alongside Britain Got Talent 2018 finalist Donchez Dacres. He was born and raised in Zimbabwe and is now based in Glasgow UK. Formerly known as Slaggy Yout his musical catalogue consists of English, Jamaican Patios and Shona tunes inspired by everyday social struggles and events, acting as a mouthpiece for the poor, oppressed, heartbroken, lonely and not forgetting the party animals. His music infuses styles from the 80's, 90's and current day, making it timeless. Daddy Slaggy is currently working on his EP titled VIBE WIT ME due out this November 2018 and aims at becoming one of the biggest reggae acts to come out of this cold island during this millennium.
How long have you been in the music business and how did you get started in Reggae Dancehall music in the first place?
Daddy Slaggy: Soon as my dreams of being a footballer faded I started my own sound system Black Scorpion in 1996 back in Zimbabwe then made the transition to music artist 1997/8 when i joined a reggae group called Cruxial Mix led by Trevor Hall.
Who were your first and strongest musical influences that you can remember?
Daddy Slaggy:King Yellowman(Jamaica) and Culture T(Zimbabwe) those influenced me to start writing lyrics before I even knew what I was doing.
Which new artists are you currently listening to or find interesting?
Daddy Slaggy:Chronixx,Lila Ike and Steflon Don just to name a few and mainly the new Afrobeat wave its totally lit.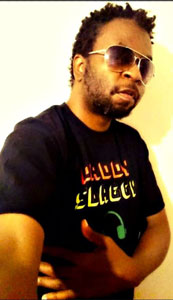 What do you feel are the key elements people should be getting out of your music?
Daddy Slaggy: Positive vibes, inspiration and a good time.
What do you think separates you from the crowd of Reggae/Dancehall music artists emerging right now?
Daddy Slaggy: I still use the 90's Reggae Dancehall concept when making a song then give it a new school feel, as the new emerging artists seem to sway towards hiphop influence.
Do you think music should also educate and be responsible towards its communities, or is it okay to just entertain people?
Daddy Slaggy: It should definitely educate and be responsible in most cases as it is a powerful tool that can easily bring people of all walks of life together or separate them, Bob Marley sang One Love let's get together more than 3 decades ago but it still relevant up to now.
What is the origin of you artistic name?
Daddy Slaggy: during my sound system days and early music career I used to be called Slaggy Yout a name I just created from the top of my head, only to come to the UK to find the word slaggy has a different meaning all together so as I was already known by it, I just upgraded following the footsteps of other daddy's in the business e.g. Daddy U Roy, Daddy Screw.
What would you consider a successful, proud or high point in your career so far?
Daddy Slaggy: I would say rocking a music arts festival with over 20 000 people as a rookie with no released catalogue and most recently signing a distribution deal out of the blue.
What has been the most difficult thing you've had to endure in your life or music career so far?
Daddy Slaggy: Dodgy performance contracts, and also the transitional period when I was trying to balance family life and music life.
What key ingredients do you always try and infuse into your songs?
Daddy Slaggy: every song has a meaning, and also I love to give the listener a feel good feeling laced up with a simple hook
Do you also produce the beats and write the lyrics on your songs or do you collaborate with outside sources in any of these cases?
Daddy Slaggy: I write all my songs and sometimes rope in a singer to sing the chorus I have written, as for beats I normally use beats store to buy my beats but I am starting to make my own beats not new to beat making by the way.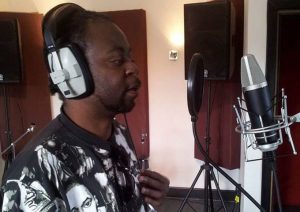 Which aspect of being an independent artist and the music making process excites you most and which aspect discourages you most?
Daddy Slaggy: The freedom of expressing your art with no label politics interfering with your craft as you reap all the full rewards the downside is mainly lack of pressure as pressure sometimes brings out the best in us and finance.
If you had the chance to work with any internationally recognized and successful producer or artist, who would that choice fall on right now?
Daddy Slaggy: Sly and Robbie would be the obvious choice but here in the UK would be a choice between Rudimental and Calvin Harris.
Are you happy about the way the music works right now, with digital platforms like iTunes, Tidal and Spotify etc., or would you change anything about it?
Daddy Slaggy: I love the digital platforms especially Spotify I tried my luck with the old system back in 1999,2000 and I must say it's was off putting and challenging, but with the new system you be an overnight start without leaving your bedroom .
If someone has never heard your music, which keywords would you personally use to describe your overall sound and style?
Daddy Slaggy: Vibrant Afrocentric Reggae Dancehall as my music is a fusion of both African and Jamaican vibes.
Do you consider Internet and all the social media websites as fundamental in building a career in music today, and what is your personal relationship with the new technology at hand?
Daddy Slaggy: Times have changed and social media is the game changer its now easier to have fans over the other side of the world without even a record label so I am on board with all of it now my music is reaching places lie the Philippines, Brazil etc.
Tell us something about your latest release and where fans can find it.
Daddy Slaggy:  Last month I signed a distribution and streaming contract with Rehegoo Music Group so they are repackaging all my singles and some are already live on all media platforms like Spotify, Tidal, iTunes under the name Daddy Slaggy.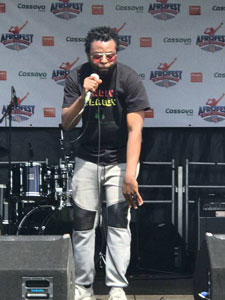 What is your relationship with visual media? Do you think videos are important for your music? Do you have a video you would recommend fans checkout, and are you busy working on something new for them?
Daddy Slaggy: in the past I never had a chance to commit to a music video but now I have realized the importance of videos in this day and age they are really influential in how people perceive your song, so I am working on the storyboard for my forthcoming video.
Do you prefer working and creating in a studio environment, or performing live and dominating an audience?
Daddy Slaggy:  I sort of favor the performance aspect over the recording mainly because I started performing with a live band before I got a chance to record and it gives the freedom to entertain which I really love.
What is the next important step for you in the near future?
Daddy Slaggy: I am currently polishing up my EP titled Vibe Wit Me due out November but as a treat for my fans I am hosting a live EP streaming party on Facebook on the 26th of October everyone is welcome the Facebook handle is @daddyslaggy.
OFFICIAL LINKS: WEBSITE – ARTISTECARD – FACEBOOK – SPOTIFY – DEEZER
Please follow and like us: