Sonya Kosta is a singer, songwriter, and developing keyboard player who has influences from classical, rock, pop, jazz, and indie music. She has recently released 'Wanna Wake Up', a new song with retro-rock, symphonic elements, and impressively ethereal vocals. Born and raised in Athens, Greece, Sonya has always been interested in various cultures and lifestyles. She is a university graduate from the National University of Athens, where she studied English Language and Literature. She combined her university studies with singing and music theory lessons. She has lived in the UK for 3 years, where she studied performance and music part-time. As the lead vocalist of an indie band in Athens for 4 years, she has cooperated with indie label Zoey Records based in Switzerland. Having studied theatre and taken part in devised and classical performances in England, the element of theatricality permeates her lyrics, recording sessions, and stage presence.
How and when did you first realize that music is what you wanted to pursue seriously?
Sonya Kosta: I have always loved music. I first realized that I wanted to be a singer while studying English Language & Literature at university. I wanted to find avenues to my creativity, and classical singing seemed to be the most appropriate medium to express myself at the time; so I started learning this particular vocal technique, which is useful for singers of practically any kind of music style.
Who was your first musical influence that you can remember?
Sonya Kosta: My first influence was singer Nana Mouskouri. I adore her mellow voice singing the melodies of notable composers such as Hadjidakis. Listening to her led me to appreciate the beauty of music and in particular, the human voice.
Who do you consider among the most influential artists in your genre today and why?
Sonya Kosta: Though I do not like categorizing my music into a specific genre or subgenre, I believe that two of the most influential artists in the rock scene today are Muse and the Arctic Monkeys. They both produce innovative music, and their tunes are undeniably captivating. Each group has a distinct style of course, which appeals to me and to so many other people around the world.
Do you remember the first piece of musical equipment that you actually purchased with your own money?
Sonya Kosta: Of course, as I still have it and I am emotionally attached to it. It is a Yamaha keyboard consisting of 32 keys. It has proven to be very useful by helping me to gain some basic knowledge of notes and to find the correct pitch in songs.
Tell us something about your current set-up? What is your favorite piece of software or hardware you use to record and/or produce your music?
Sonya Kosta: I principally use an MP3 Player with a recorder for recording my voice a cappella, and it is my favorite piece. The recorded material forms the basis for professional studio work. It is a simple and yet indispensable tool that has helped me improve my vocal skills, since listening to my own voice helps me to identify what I need to work on to sound better. I also have a portable microphone.
Which ingredient do you think is the most essential ingredient in making your music sound the way it does?
Sonya Kosta: I would say that the most important ingredient is my distinctive voice, which has also been characterized as eerie by fellow artists, and this is something that I definitely find flattering. So my voice is the "solo instrument" in my music.
You have recently released the song "Wanna Wake Up". Every song usually has a backstory or anecdote behind it. How did this song come about?
Sonya Kosta: This song describes my quest for a state of awakening and self-awareness and after having encountered some difficulties with people in the industry. As I have mentioned in the song description on SoundCloud, one of the main themes is the importance of defying naysayers; in my case, naysayers who have questioned my abilities and personality as an artist. Creating this song is the answer that will make them hush.
Do you think it is still important for artists to have formal musical training today, with all the technology at hand? And how do you think your music studies help in your music and career?
Sonya Kosta: Having formal musical training is a privilege that should not be taken for granted, even today. Throughout my lifetime I have struggled to receive high-quality training. I am now on the right track as I benefit from vocal and piano lessons by great teachers who work at reputed music schools. What is critical is finding musical training that allows you to put into practice what you have learnt and helps you improve in specific areas in which you can flourish as an artist. Obtaining a music certificate is secondary.
How did you go about recording the aforementioned track? Did you play, produce and arrange the instrumental?
Sonya Kosta: First, I came up with the first two lines of the song's lyrics. Then I created a simple melody for these two lines and recorded it by singing it a cappella on my MP3 Player.  I continued this way for greatest part of the song. I added the finishing touches to it when the time had come for the recording sessions at the studio.
Did you compose both the music and lyrics for "Wanna Wake Up"?
Sonya Kosta: Yes, I am the sole composer and lyricist of the song and very proud of this accomplishment!  It is the first song that is 100% my creation. Luckily, I had a great teacher and producer who helped me to create the vision I wanted.
Did you encounter any specific difficulties while completing this track? And did the final production come out exactly as you intended when writing it?
Sonya Kosta: It is a track that is demanding for any vocalist, as I needed to sustain high notes in some parts of the song in the recording session at the studio. I enjoyed it, but it has also been challenging. As they say, practice makes perfect! The final production was very close to my original intention. The feedback I had from the producer was inspirational and helped me take a new direction I had not thought of initially.
Do you perform live music events/gigs? And if so, which do you prefer more – live gigs or studio work?
Sonya Kosta: I have already gained substantial experience performing live in some venues England and doing lead vocals for an indie band in Athens for 4 years. As a solo singer, I have recently performed in venues for new artists as well as at jam nights. I look forward to performing in new gigs as I now feel I have honed my craft and am more confident than ever as a performer. So I prefer live gigs more, since they enable me to connect with my audience in real time.
Do you have plans to perform "Wanna Wake Up" in front of an audience in the near future? What is the crowd response you are hoping to have?
Sonya Kosta: I intend to perform it in digital platforms hosting live shows, such as NEXT Music and Stageit. Naturally, I am also open to opportunities for live events in traditional venues. I hope I will be able to win the audience with my originality and the beauty of the melody. I want to be able to seize people's attention from the first to the last second of the song.
From where do you mostly draw your inspiration – from what you see happening around you, or what evolves intimately in your heart and mind?
Sonya Kosta: What evolves in my heart and mind is often a result of what I see happening around me. It is hard to draw a line between the two. However, I am an introspective individual that tends to sift through events and evaluate situations carefully, so in that sense, you can say I mostly rely on my heart and mind to find inspiration.
As an independent artist, which is the one factor you desire most (increased music distribution, more media exposure, radio play, a bigger budget etc.…) at this time?
Sonya Kosta: Undeniably, more media exposure will help me to gain a wider audience so it seems this is what I should desire most. However, my most intimate wish is achieving international radio plays, since this it is a great honor to have my music heard by people in various parts of the world and affect their everyday lives in a special way. My song has already been aired on JMedia-FM and Poze Radio, so I think I am in the right direction.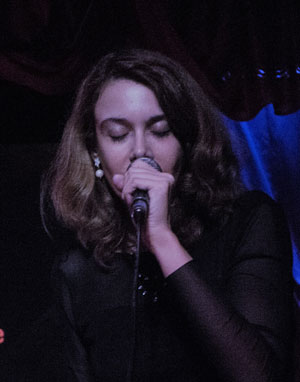 What do you think mainly separates you from the massive crowd of artists emerging right now on platforms all over the World Wide Web?
Sonya Kosta:  What mainly distinguishes me from others is my skill set, which consists in the characteristic quality of my voice, my talent as a lyricist, and my background in humanistic studies and performing arts.
In general, do you consider the Internet and all of the social media platforms as fundamental in building a career in music today, and what is your personal relationship with the new technology at hand?
Sonya Kosta: Yes I do consider them as fundamental. They have helped me discover a host of opportunities with regard to performances, radio play, and fan outreach. I am a great supporter of technology and eager to learn about new tools that can promote my career on a global scale.
How do you handle criticism and/or naysayers in general? Is it something you pay attention to, or simply ignore?
Sonya Kosta: I used to have a hard time accepting malevolent criticism. This kind of criticism has had a negative impact on my career progression for some time. Now I am more well-equipped and discerning to cope with that kind of criticism without allowing it to affect me the way it used to.
What do you find most rewarding about what you do? And do you have a specific vision or goal set in your mind that you would like to achieve in the near future?
Sonya Kosta: What I find most rewarding is the response I get from people who love my music. It is magical how you can touch people and make a positive difference in their lives. It is something I wouldn't exchange for the world. My greatest aspirations are doing more gigs in Europe and beyond and winning new fans internationally.
So besides music, what's your favorite thing to do when you aren't writing / producing / recording / playing etc.?
Sonya Kosta: I enjoy travelling, which is something I want to do more often. I like to escape to beautiful and idyllic destinations, and I especially love discovering new places and cultures. I have not yet managed to travel to many countries, so it is something I would like to achieve in the future too.
OFFICIAL LINKS: WEBSITE – REVERBNATION – SOUNDCLOUD – INSTAGRAM – FACEBOOK – APPLE MUSIC
Please follow and like us: