Caglar Hepterlikci is a guitarist/songwriter/composer and music producer based in Istanbul, Turkey. With a deep and diverse passion for music, he thrives on creating emotive, articulate records. Caglar founded his own independent production company, and offers workshops, session/studio work, and instrumentals for different projects. Caglar has performed and recorded with an array of professional artists, including Murat Dalkilic, who is one of the most popular popstars from Turkey. His popular studio releases include "Secret Sky" and "Parallel Journey", which was inspired by NASA's photo release of the black hole. On top of this, Caglar is also sponsored by Fibenare Guitars Co. (Hungarian Boutique Guitar Company) and Sit Strings (U.S.A. Guitar String Brand) and is a regular demonstrator with them. Attending the world biggest music fair 'Namm Show' since 2017 as their demonstrator in Anaheim/Los Angeles. The artist is due to release a full-length album later this year, which will be a collection of contemporary guitar songs with an 80's aesthetic.
How long have you been performing and recording, and did you have any formal training?
Caglar Hepterlikci: Hello! I been performing professionally for 18 years now. And no, I actually joined college as chemistry engineering but I didn't like the idea of having music as hobby. I wanted to earn my life from music so I focused hard and drop school for that.
If someone has never heard your music, which keywords would you personally use to describe your overall sound and style?
Caglar Hepterlikci: Interesting and surprising! 😊 Because I'm guitar player but I always like to try new things, like my new song 'Parallel Journey', it doesn't even have guitar in it. But my other release 'Secret Sky' is heavy guitar based song. So it's always changing, like life changing every minute!
If any, which current artists do you listen to and respect for their artistic endeavors?
Caglar Hepterlikci: Steve Vai, Joe Satriani, John Petrucci, Jeff Beck was my childhood influencers. And still they are!
Do you remember the first piece of musical equipment that you actually purchased? And which is the one piece of hardware or software you're still looking to add to your setup now?
Caglar Hepterlikci: It was piano, my parents bought me that when I was 4 or 5. I'm very much into analog synths now a days to expand my synth collection. I'd like to add modular synth to discover new sounds and mix them with guitar.
Where do you do most of your recording, production and mastering work? And do you outsource any or all of these processes?
Caglar Hepterlikci: I do all of my work into my home studio. Because it's always relaxing to work in your own home without pressure.
Studio work and music creation, or performing and interacting with a live audience, which do you prefer?
Caglar Hepterlikci: I love both. But if it's cover song performing, sometimes it gets boring to play the same song for 342884th time 😊
Do you have a song in your catalog that you are particularly fond of for some nostalgic or emotional reason? And what is its back story?
Caglar Hepterlikci: Yes. Joe Satriani – Forgotten Part2 , it was the first proper song I actually played fully and I felt amazing after that like real guitarist about 22ish years ago.
Could you describe your creative process? What do you usually start with and how do you go about shaping these ideas into a song?  
Caglar Hepterlikci: I start with the melody almost every time, then build up chords/beat around of it.
How did your collaboration with Fibenare Guitars Co. come about, and what does it entail?
Caglar Hepterlikci: It started 3 years ago. We're like guitar family now. They're genius and making best possible guitars in the world for sure.
With more and more musicians creating and releasing music on their own, what are your feelings on how the music business works right now with all the digital platforms and streaming services? Is there anything you would change or suggest as an improvement?
Caglar Hepterlikci: I think Capitalism also jumped into music business a lot. Now a days, it's too hard to discover new artists. Same goes for us. It's impossible to make people hear about your songs without pushing PR with Ads and all other PR stuff. And income is very very low from digital platforms.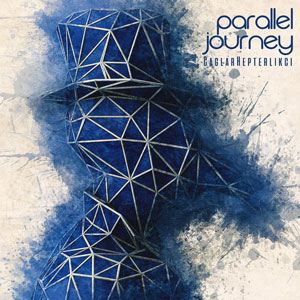 Do you consider Internet and all the social media websites as fundamental in building a career in music today, and what is your personal relationship with the new technology at hand?
Caglar Hepterlikci: Yes, social media and websites are everything for building music career now a days. I use them every day almost even though I don't like it too much. But I feel like, it's also my job to post stuff, so I see them as homework.
How essential do you think video is in relation to your music?  Do you have a video you would suggest fans see, to get a better understanding of your craft?
Caglar Hepterlikci: https://youtu.be/pKPoXdLFR6w here is my latest release 'Parallel Journey' s music video.
What is the best piece of advice regarding the music business that you actually followed so far, and what is the advice you didn't follow, but now know for sure that you should have?
Caglar Hepterlikci: My best advice came from my family which was 'Do what you love!', They didn't pressure me about anything at all. And my worst was YouTube, I could start earlier before social media platforms jump into capitalism.
You have also founded your own independent production company. Could you tell us more about this project?  
Caglar Hepterlikci: Yes, after working with famous stars for 10+ years, I decided to open my own production company. I support new artists instead of famous people.
Could you tell us more about your upcoming full-length album, and what fans can expect?
 Caglar Hepterlikci: I am gonna release a full-length album later this year, which will be a collection of contemporary guitar songs with an 80's aesthetic. They can follow me from my Instagram (caglarhepterlikci) and from my website for upcoming news. www.caglarhepterlikci.com
OFFICIAL LINKS:
WEBSITE: http://www.caglarhepterlikci.com
INSTAGRAM: http://www.instagram.com/caglarhepterlikci
FACEBOOK: http://www.facebook.com/caglarhep
TWITTER: http://www.twitter.com/caglarhep
YOUTUBE: http://www.youtube.com/caglarhepterlikci
YOUTUBE: http://www.youtube.com/caglarhep
Please follow and like us: