The brainchild of drummer Pete Colvin (drums), New Jersey's The Black Heart Gospel also consists of Stan Chan (guitars), Mark Ramsey (bass) and Todd Knowlden (vocals). The foundation was laid with the lyrics and melodies written by Pete. Once satisfied with his work, longtime friend and guitarist, Stan Chan, came in to complete the music that is now The Black Heart Gospel.
Only to compliment what Stan and Pete had accomplished, vocalist Todd and bassist Mark came in to complete TBHG line-up. Since the late 90's, in one form or another, the members of The Black Heart Gospel have shared the stage with Buckcherry, Quiet Riot, Life Of Agony, Ill Nino, OverKill and many others.
Now the band has unleashed their 4 track "Wasteland America" EP, with political and socially conscious undertones seething under the hood. Hard Rock is so over saturated and lacking in creativity, but still manages to surprise me once in a while. Previously I hadn't heard of The Black Heart Gospel, but based off of the beautiful cover art and sheer coolness factor of the name, I decided rather impulsively to try them out. I'm happy to say that my curiosity paid off nicely.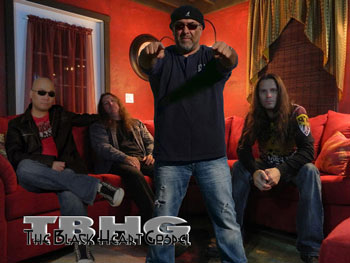 The Black Heart Gospel is unmistakably meat and potatoes in their approach to Hard Rock, and you won't find any surprises or stark contrasts between any of the 4 tracks. What you will find, however, is a straightforward, hard rocking group of songs that will undoubtedly appeal to the classic rockers from the 80's right through to your modern dropped E mongers.
The songs "Wasteland America", "Scary", "Before My Eyes ", and "The Growing Unknown" give a pretty accurate portrayal of what these guys are going for. In between you will run across the singer's gravely and emotionally charged inflections, while the production is smart, fine-tuned, and particularly hook-oriented.
Lyrically it's very creative and heartfelt, allowing The Black Heart Gospel to create a strong connection with their listeners. For all of the dissent towards this type of music nowadays, due mainly to those awful poppy rock bands, it is still a massive and irrepressible market, and The Black Heart Gospel knows this.
They play within the lines just like the others – but better than the others, bringing quality musicianship and genuinely smart production to the table. The result is a banquet of delectable Hard Rock tunes that the genre's legends would be proud of.
"Wasteland America" is loaded with killer riffs and some great chant-along chorus sections, as on each song they come out the gate with guitars blazing, melodies flying, and vocals booming. Every track is an example of this band's talent level. That's a rarity these days.  You'll be so glad you picked this EP up!
OFFICIAL LINKS: WEBSITE – STORE – YOUTUBE – FACEBOOK – TWITTER
Please follow and like us: