Rising Mumbai star Mallika Mehta is emerging as one of the hottest new female artists in the underground pop genre. She has been singing, both in Hindu and English, for just on 10 years now, of which 3 professionally. She has undertaken training with the Voice Academy, NYC, and also attended summer program at Berklee College of Music, Boston in 2016. While at Berklee, she was one of the select few of 1,100 students, permitted to record a song of her choice in Berklee's state of the art recording studios. Moreover, Mallika performed her official debut concert, entitled "Rhythm", and then subsequently was invited to open a concert for Kailash Kher, the Indian pop-rock and Bollywood playback star. Mallika Mehta's first ever English single "War Solo", released on 21st November, 2016, was recorded at the VOA Studio, Port Washington, with the recording, mixing and mastering done by Robert Nolfe.
Now in 2017, Mallika Mehta is back with her brand new sophomore single entitled, "Flame Is Gone".  Mallika made waves not too long ago for her beautifully empowering anthem "War Solo". Shortly after discovering and falling in love with the song, I wondered what was next for her. A year later and here she is dishing out her new single.
Mallika projects herself as that beautiful girl next door with the heart of gold, and I doubt that's a media ploy, she probably is just that grounded and level-headed. I always feel good when listening to her music. In an age where depression, miscommunication and promiscuity run amok, it's pretty killer to hear down to earth love songs that you can relate to.
"Flame Is Gone" is full of safe bets: a catchy chorus, heartfelt lyrics and easy radio acceptance for a song driven by a warm and all-embracing piano-dominated soundscape. Its triumph is also the fact that Mallika knows her voice well enough to manipulate it through the peaks and valleys of the arrangement.
The song reveals that hiding under all that earnest intention there's a savvy ready-to-be pop star itching to be heard. She has a clear, edge-less voice, and she's versatile.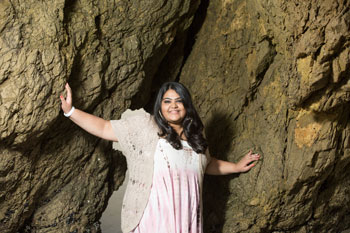 Ms. Mehta is at her best when she relies both on shorthand pop gestures as well as more profound subject matter. But uplift from melancholy is a constant theme in her music, placing her in the company of a set of rising young female singers, who prioritize sincerity and self-empowerment over flash and fury.
Even at her most defiant, Mallika never truly sounds angry but rather deeply afflicted. It's this vulnerable sensibility which gives her music, and in particular, "Flame Is Gone" such a relatable appeal.
Mallika Mehta's take on modern pop joins the ranks with honest and deep lyrics, as well as catchy and touching melodies. Her songs maintain explosive vocals, reassuring messages and addictive atmospheres.
"Flame Is Gone" will fill your headphones, and win you over with Mallika's emotive voice. The intimacy of the piano and the subtle drumming are also driving forces. Without a doubt, the new single ticks all of the boxes for Mallika Mehta.
OFFICIAL LINKS: FACEBOOK – INSTAGRAM – YOUTUBE CHANNEL
Please follow and like us: