The award winning Los Angeles band Luna 13 is forging a new genre of music they call Black Metal/Bass Music. Their brutal yet groove based electro-metal incorporates elements of electronica, death metal, and industrial rock – all done with electronics, which means no string instruments. Music maker Dr. Luna, creates a metal sound with synthesizers and by wrapping heavy distortion around sub-bass. Luna 13 who has been performing live for a few years now, opening for death metal/industrial and electronica projects alike, came into its own when Lilith Bathory joined in 2015. Since, Lilith, the band's front woman, has been booking modeling jobs and acting services and has been a local sensation (cameras follow her around).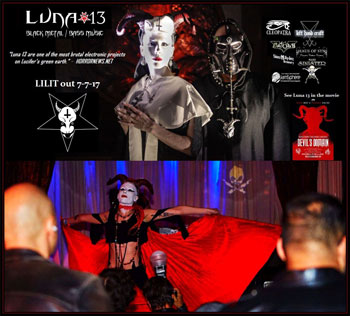 Together, Luna 13 has also been picking up endorsements from clothing companies and playing larger Venues like "Dark Circus" and festivals like "Detonation: 3 END OF DAYS Festival." They have been booked in a scene in the movie "Devil's Domain" ft. Michael Madsen INFO' and are also on the soundtrack, which includes artists like Iggy Pop, DMX, Onyx and 3Teeth.
Luna 13 is now busy preparing the release of their brand new album, entitled "LILIT", which releases worldwide on 7-7-17 via Cleopatra Records.
We intercepted a few tracks from the upcoming album recently, and this is Black Metal distilled to its grimmest, darkest purity, aptly called Black Metal/Bass Music by the band. The synth guitars meld together in a slowly shifting black harmonic wall. The riffs are repetitive and mesmerizing.
The drums have been stripped down to their machine gun basics, and act as the solid foundation for the gut-ripping synths. They blast like a constant wind in the midst of a cold winter night. The vocals are placed perfectly within the music and are ethereal to savage.
The vocal interludes are darkly poetic and evocative, capturing an essence of horror that few other bands ever achieve. This is dark, evil music; to call it grim doesn't begin to describe the sound Luna 13 achieved on tracks like "Welcome to Hell" and "Upside Down".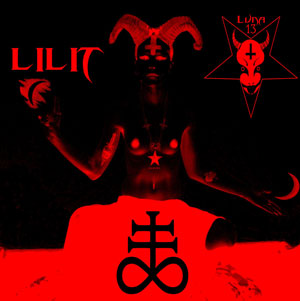 This is the sound of breaking ice, crunching stones and ferocious anger; an innovative recording from one of the true innovators in black metal. These songs sound like some of Luna 13's best and the quintessence of the underground black metal sound. Listen to these songs through headphones at night, and they will send chills down your spine.
There is a certain stylistic coherence to the musical intrepidity of Dr. Luna and Lilith Bathory that naturally varies in quality from one album to the next; it always seems more like they are applying modern black metal conventions to a foundation of industrial and death metal genre trends than the other way around.
This allows a much greater degree of flexibility and adventurousness than the contrary would, but it also means more taxing demands and experimentation from its creators. Tracks such as "Witch Bitch 666" and specifically "Widowmaker" stands as a mighty reminder that Luna 13 are still at the top of the extreme underground metal horde, and maybe they will be for all of time.
OFFICIAL LINKS: WEBSITE – FACEBOOK – TWITTER – YOUTUBE
Please follow and like us: