Hailing from the Eastside of Atlanta, the dynamic trio Levi Johnson was formed by renowned choreographer and creative director Jamaica Craft.  A collective of rhythm and dance, Levi boasts the artistic graces of lyricist, Kobe Johnson who was once signed to Interscope Records. More than just a rapping, and singing hip hop dancer, Kobe prides herself on being an innovator. Singer Dre Johnson says she brings musicality and balance to the trio. An ex student of the Avondale School of the Arts, music has been Dre's first love from the beginning. Third member Alex Johnson is a skilled singer and songwriter who represents the Eastside of Atlanta. She too entered into the showbiz arena early, with some acting assignments.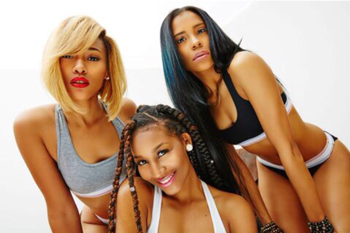 The Atlanta threesome is currently punting their single, "So Fly (Produced by Tha Bizness)". With all due respect to anyone else, no girl group – mainstream or otherwise – epitomizes true girl sexy power better than Levi Johnson right now. They are a stick of Pop/RnB dynamite that explodes with energy, attitude, and sass.
Their style is a reminiscent of the mid-90s R&B, which was peppered with just enough pop to ensure maximum appeal. R&B, rap, pop and even middle of the road radio stations still keep singles from this era in near-constant rotation. Now they don't have to, as Levi Johnson replicates that smooth and funky style effortlessly, adding their modern urban edge.
Anyone that has followed Levi Johnson before now obviously knows that these women are talented. What I am getting at is that this group has all the potential to become monumental, influential, innovative, legendary, and downright dope.
Each member has their own unique style and sound, and they all come together harmoniously on the smooth and melodic head-nodder, "So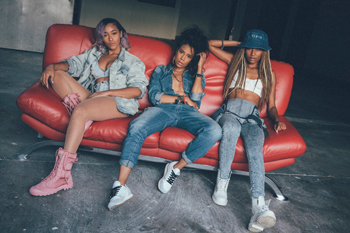 Fly". The song rides on a bass heavy, finger-snapping beat that is hard to ignore. It is clear Levi Johnson is ready to grab the music industry in a choke-hold and squeezed the air out of it given half the chance.
Their mixture of impeccably crafted image and undeniably catchy songs will make them a prime contender among the current pack of glossy pop idols. And just in case you're wondering if they're one-trick ponies, they're not. The sultry "Waiting", and the sensual "Deep", with its provocative play on words, will be enough to convince you that these girls are ready to go to the next level.
These songs, together with the rest of their catalog, are representative of an era of Pop/R&B that is currently getting lost in a sea of repetitive EDM beats and flaccid, uninspiring lyrics. Rather than drowning in fuzzy, obscure productions, Levi Johnson uses smooth instrumentation that highlight, their velvety harmonies and honest lyrics.
The rest they leave up to their charismatic performances and heart-stopping physical presences.
OFFICIAL LINKS: WEBSITE – SOUNDCLOUD – YOUTUBE – INSTAGRAM – FACEBOOK – TWITTER
Please follow and like us: