Laskii are always tinkering around the edges of their sonic universe, getting darker, subtler, and more expansive. They do that throughout their steadily growing catalog, and the payoff is enormously gratifying. The Alaskan act blends bedroom pop, emo rap and indie styles to bring a fresh vibe to the emo culture.  How do Laskii do it? The answer is relatively simple. They do not follow in the footsteps of their peers or contemporaries. They just reinvent the wheel, so to speak. The single "Hazel Eyes" has a comfortable place in their catalogue – it shows another creative turn, another change of pace and atmosphere. Yet it feels like a summation of everything Laskii has ever done in many ways. It has the mellow acoustics, the subtly theatrical, and the deep inward looking.
Laskii avoids the trappings of other artists through its infinite variation from track to track. "Hazel Eyes" is yet another thread pulled in the unravelling of their creative and emotional complexities that they choose to share with the world. On the track, Laskii has us drifting slowly in their musical space. Gently reverbed guitars lushly layered come forth, while a steady drumbeat underscore the vocals, rising from the backdrop like a wounded, yet compassionate spirit. It offers a hypnotic head-trip of the highest caliber.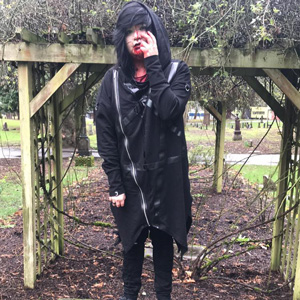 "Hazel Eyes" is wrapped up in melancholy beauty, and bittersweet harmony. Its music for late nights, for falling adrift in slow dark waters and gazing numbly at the glowing moonlight, while you ponder the existential questions of your life and love. This is a record of understated expansiveness and growth, but there is also a sense of restraint. The work presented here feels completely effortless and organic, as though the song simply unpacked itself from Laskii's heart.
Laskii has long learned and realized the delectability of the foundational nature of great, nuanced storytelling. Its impact is one that is profoundly mesmerizing on "Hazel Eyes". This is a track that one can love absolutely, unreservedly, and care about even from the very first listen, and that feeling is not diminished in any shape or form on repeated spins. In its simplicity, it's a top tier song that has been carefully knitted together for maximum impact.
There is somehow an inner strength here – a defiance in the face of affliction that evokes a determination, in the end, to just accept and move on, in the face of pain suffered. The level of emotion conveyed is a testament to Laskii's voice. The power of which does not require them to scream or shout. It's all in the nuance, tone, and mood. Listening to Laskii, is not unlike having a soulmate-level relationship, as you'll feel as if you've known them forever. Moreover, they know what they are good at and they constantly find ways to fine-tune their sound so that no one track sounds quite like the one that came before.
Every Laskii song stands apart as its own unique emotional journey. By featuring a range of subtle organic sounds, textures, and rhythms, "Hazel Eyes" illustrates Laskii's unique understanding of how to pull audiences toward their world.
OFFICIAL LINKS: SOUNDCLOUD
Please follow and like us: