In the competitive and creative landscape of contemporary hip-hop, the emergence of fresh and distinctive voices is a cause for celebration. One such voice that has been quietly making waves in the industry is notVisible, an up-and-coming Emo/Hip-Hop artist whose latest single, "Dear, Love," is a poignant testament to his undeniable talent and unique sonic vision. Drawing comparisons to the likes of Lil Peep, Lil Tracy, and XXXTENTACION, notVisible is quietly but rapidly cementing his place among the next generation of rap stars, and his latest release is ready to send ripples through the underground music community.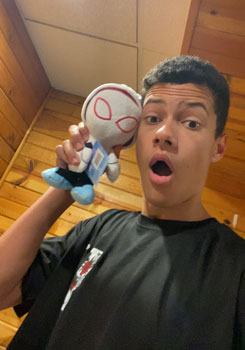 With notVisible, what strikes most profoundly is the ability to create a hauntingly beautiful narrative through the medium of music. "Dear, Love" is a window into the world of an artist with a troubled heart, a searching soul and authentic experiences of toxic relationships. It's a track that speaks to the depths of one's sentiments, invoking a sense of emotional turbulence that is simultaneously captivating and poignant.
The song's production is a testament to notVisible's prowess. His confident vocals, delivered with a nuanced sing-song flow, effortlessly intertwine with the beat, creating an immersive listening experience. It's a sound that seems to seep into your very being, resonating with a deep, emotional frequency.
One cannot understate the brilliance of the creativity on "Dear, Love." The beat, lyrics, and a catchy hook blend seamlessly, creating an atmospheric piece that highlights notVisible's innate magic. It's astounding how he can take a song rooted in affliction and infuse it with a scintillating twist that works so effortlessly. This transformative ability sets notVisible apart, positioning him in a league of his own in the world of hip-hop.
What makes notVisible truly exceptional is his unique approach to the genre. He doesn't merely follow in the footsteps of his contemporaries; he forges a different path entirely. "Dear, Love" is a splendid example of his ability to fuse elements of rap, hip-hop, and classic emo music, creating a musical blend that is as refreshing as it is deeply affecting.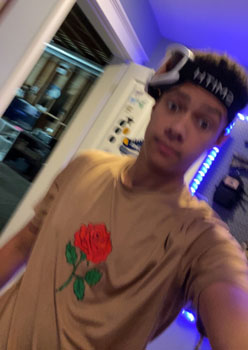 The brooding performance of notVisible, accompanied by shimmering guitars and warm keys, adds layers of emotion to the track, giving it an intensity that lingers long after the music fades.
"Dear, Love" is an artistic statement, an expression of notVisible's innermost thoughts and struggles. Through his lyrics, he bares his soul, providing a glimpse into the intricacies of his personal journey. It's a lyrical honesty that resonates with authenticity, a quality that speaks to his generation's desire for music that connects on a profound level.
In the grand tapestry of contemporary hip-hop and rap, notVisible is a rising star who defies convention. "Dear, Love" is a testament to his boundless creativity, lyrical honesty, and melodic genius. It showcases an artist who is unafraid to push the boundaries of genre and whose music is imbued with intense passion and care.
As notVisible continues to navigate his musical journey, "Dear, Love" stands as an exciting stepping-stone to what lies ahead. It's a powerful indicator of his potential to reshape and redefine the future of new wave hip-hop, and his unique blend of stylings and meaningful lyrics set him at the forefront as a voice perfectly suited to this generation.
Ultimately, "Dear, Love" is a genuine expression of notVisible as an individual, a visionary artist who, with each note, each word, and each emotion, paints a vivid picture of the human experience for us all to share.
OFFICIAL LINKS: https://www.instagram.com/notvisibleee/
Please follow and like us: