"A Moment of Anger Followed By A Moment Of Silence" is the debut EP from Beach House Horror, recorded during the summer of 2016. The project is the creation of Jack Elliott-Clackett, a 19 your old singer-songwriter from Banbridge, Northern Ireland, currently studying Audio Production at the University of Lincoln, England. Jack says he was always interested in releasing his own music but never had the confidence to do so. He was used to playing in bands and producing other peoples music, until he finally decided to start his own project hence; Beach House Horror.
It's not often that you find an EP or album without any waste, but Beach House Horror's new disc defies ordinary music. Each track here counts, both lyrically and musically. Jack's dreamy, rich voice glances off the inventive jangly guitar riffs and smooth silky keyboards, supported by the earthy percussion. Beach House Horror invariably layers in quirky sounds, but the textures behind the music are stunningly elegant, never distracting. The percussion, whether driving or subtle, offers hypnotic catchiness.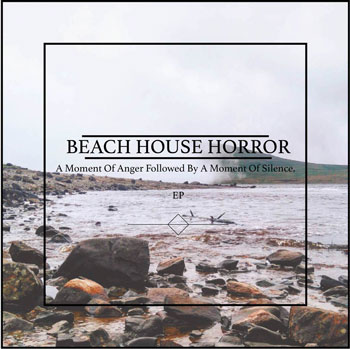 The elliptically raw lyrics, however, are what make "A Moment of Anger Followed By A Moment Of Silence" burrow into one's consciousness. The story behind the songs at times is crystal clear, while at others they are less so. Nonetheless, you invariably get the feeling that, somehow, every word of every song was transcribed out of one of your own dreams.
In addition to the attitude and honesty of the lyrics, the emphasis here is on emotion and using familiar elements to create something undeniably and emotively vital into a translatable art form.
The result is a cohesive and slick production with grooves that are all mid-tempo and sultry, almost aching at times.  Beach House Horror is more sophisticated and real than all the cheesy corporate alternative that chokes up the airwaves nowadays.
Instead, this music wins you the old-fashioned way, with compelling guitar parts, simple, beautiful singing, and a rich musical atmosphere within each song – whether it be the elusive, dancing strings in "Stay", the luscious guitar in "Dragged Back In", the descending chord progressions in "You And Your Lovers", the dominant piano in "Cold Break", or the compressed drums and fleeting organ in "Note To Self".
The volume of care and craftsmanship in the studio does not rob the songs of their intimate feel. Wrapped inside those shuffling drum beats and effects, are simple, elegant melodies extended by absolutely gorgeous soundscapes that will make your heart smile and ache as you sing along.
Delving further, you find that the final layer in this clever work is the sardonic lyrics sung with a warm lilt, charming the listener with both guile and grace.
OFFICIAL LINKS: FACEBOOK – SPOTIFY – ITUNES – SOUNDCLOUD – YOUTUBE
Please follow and like us: