If when you hear Blake Shelton or Carrie Underwood, you imagine big trucks, bonfires, and beer, think again. Lindsay Mulder is taking country and American bluegrass to the next level as her music takes twists and turns and immerses fans into a cross-genre hybrid that she describes as "alternative country".  When asked why she doesn't just stick with her Alabama roots and continue the tradition of country music, she had this to say:
"I grew up in this musical parallel universe, I guess. It was this weird mix of summer porch bluegrass and gospel, heavy metal and alternative rock (laughs). I was always a wallflower. I just didn't quite fit in anywhere. That's kind of the approach I take with my music. I like to experiment." She says that she's considering production of a "hick-hop" track, a genre not many women are willing to take on.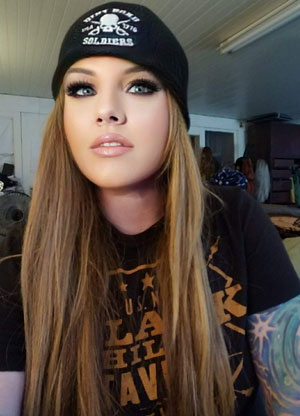 Lindsay believes that music contributed to saving her life. "If my weird style of music helps somebody through a hard time and gets them to where they need to be," she says that every minute spent in the studio has been worth it. She runs various military and musical social media groups and pages while also working as a network coordinator and mentor.
She began songwriting again after leaving the military. "I came at this so backwards. I had no idea what to do with all of this new technology. I loved my military career, but in terms of music, it seems like I woke from a coma. Setting up my studio was like assembling a bunk bed from IKEA… blindfolded."
She was writing songs at 12 years old. She says that songwriting, drawing, and playing clarinet were her escapes. Growing up, she experienced severe depression that manifested itself in musical expression, a feeling that really never left. "The outlet is still here. I just kinda shut the drawer on it and did what needed to be done," she says, speaking of her16 year military career.
Lindsay Mulder is on various platforms. Her eccentric genre of music can be found on iTunes, Google Play, Spotify, iHeartRadio, and Napster. Her song, "Fort Concho Caliche" and "Red Creek Blues" have been played on European radio and podcasts as of April.
She is currently building a foundation for her label "Rock Prairie Records" and working on her next project, to be released in early October.
You can contact Lindsay Mulder via:
Email at lindsay.mulder@gmail.com
Facebook: www.facebook.com/erin.wilkinsmulder and
Instagram: www.instagram.com/lindsay792001
Please follow and like us: