The International Songwriting Competition (ISC), one of the most popular contests in the World, last week announced the 2022 semi-finalists. The contest which judged by some of the most famous names in music received more than 15.000 entries and the semi-finalists make up only 13% of all entries.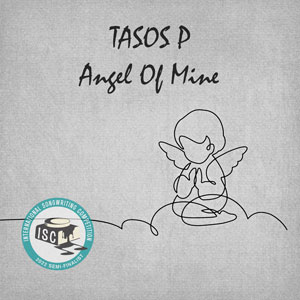 Winner of six Medal Global Music Awards in USA, California (one silver and five bronze), Greek electronic music composer Tasos Petsas (aka Tasos P.) was selected as a Semi-Finalist in the Instrumental Category with his composition "Angel Of Mine". Last year Greek composer was also a Semi-Finalist in the World Category with his song "Été D'Amour".
The first version of "Angel Of Mine" has been released on 2015 as a trip hop opera duet song between composer and cross over soprano Manja Vlachogianni which reached the #1 on Greek Billboard Digital Song Sales and entered into Euro-200 Chart.
Although the digital release of his composition was scheduled to be released on mid March, the track was eventually dedicated to remembering those who have killed in the tragic railway accident on 28 of February near central city of Larissa.
YouTube Music Video
Credits of the song
Music/Production by Tasos Petsas
Mixing/Mastering by Giorgio Lazarou (Aural Fragment)
View the list of winners
https://www.songwritingcompetition.com/winners
Connect with Tasos P. here:
Official Site: https://tasospe.wixsite.com/tasosp
Facebook: https://www.facebook.com/officialtasosp
YouTube: https://www.youtube.com/c/TasosPOfficialTube
Instagram: https://www.instagram.com/tasospe
Please follow and like us: