Sublime good vibes and deeply moving, intelligently framed lyrics introduce this new single from rapper and artist Mahogany Jones in an unforgettable way. Leading with delicate melodic fragments and the simple swagger of a nostalgic bass and beat combination, "Strong Friends/Weak Friends" offers a defiant sense of unity and thoughtfulness that's incredibly refreshing right about now.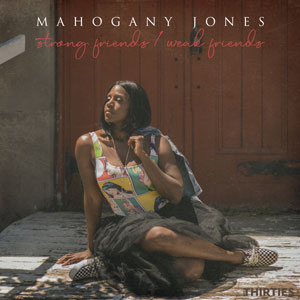 Devoted to caring, to personal honesty and realizing the threads both strong and weak between us, the track showcases a fearlessly revealing and vulnerable manner of writing. There's struggle in the detail, but the track cleverly resolves this with a stunningly soulful vocal hook from K.$OUL, which naturally welcomes the listener to become part of the process towards healing, growth and oneness.
Loaded with relatable ideas and experiences but ultimately captivating in its new and authentic storytelling, the single makes light work of luring you in with softly passionate bars, then holding you closely for the more accessible references and catchy nature of the hook.
It's a brilliantly effective way to write, and the timeless genre-blending in line with the crisp, clean production from Dre Marshall for The Thirties, Inc., allows the whole thing to reach out and connect in an instant.
Beautifully crafted and performed, with a strikingly humble yet alluring delivery from Jones, "Strong Friends/Weak Friends" reminds us of the important things in life, and above all else – to be there for one another.
Check out Mahogany Jones on Twitter, Instagram & YouTube. Stream & Download the music HERE.
Please follow and like us: