Gencade is a tasteful musician, who has always been a prime example of how elegance and cool can completely team up with substance and personality. People come to a Gencade mixtape or album for a number of things- dope beats, nice songs, a driving energy- most of which center around vibe. His weed-inspired album "420 Love Letters" is a recording that sees its creator finally finding his voice. We are no longer listening to someone guide us through his incendiary collection of landscapes; we are entering the dwelling of someone who has a defined artistic vision.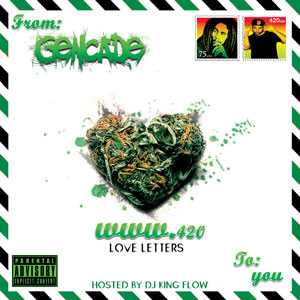 Now that his goals stem beyond simply being dope, there is a whole new Gencade ready to present himself. For better or for worse, "420 Love Letters" is an album that welcomes engagement instead of mere acknowledgment of its undeniable swagger, especially if you're into the weed culture.
"420 Love Letters" is the purest form of that, and it delivers on Gencade's own terms. This album isn't some left-field, experimental shit but rather a bold execution of scorching ambition. In fact, its hazy smokiness works to reveal how Gencade's presence hardly dies down regardless of the numerous turns he takes on this 10 track journey.
There is a lot to praise about its juxtaposition of being righteously stoned and maintaining cohesion; through all the versatility and various out-there song concepts, Gencade astonishingly keeps hold of a grandiose, misty atmosphere for the album's entire running time.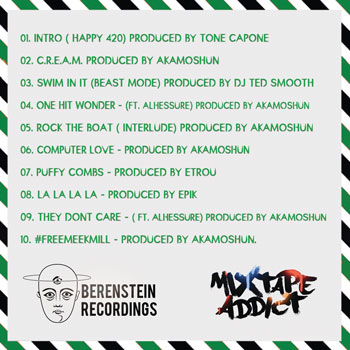 The artist from Spanish Harlem, New York City openly states that: "Weed was smoked before recording, after tracks were recorded, while the tracks were being mixed & mastered and while the final product was played back." This is an unpredictable album in the sense that no two songs achieve the same thing.
The more you listen to it the more Gencade surprises you with his firm grasp on melody, and his ability to pick out great beats. His cannabis-rap vibe, exploring "Weed, Women and Wokeness", as he puts it, is unmatched in terms of accessibility and appeal.
The album doesn't just rely on bangers and great production but also an overarching tone that runs through its backbone. Therefore, "420 Love Letters" is quite a handful. It is a record so adamant on being as groovy as possible that it takes its diversions and makes them absorbing, and thanks to Gencade's newfound personality, it results in one of the most unforgivably entertaining Cannabis inspired albums of the year.
OFFICIAL LINKS: FACEBOOK – TWITTER – YOUTUBE – SOUNDCLOUD – AUDIOMACK
Please follow and like us: