The question is, does Zalex ever stop being incredibly awesome? I'm not sure what his apex work is, but his latest single, "Stepping Stones" has to be damned close to it. For a while I thought I might be getting too old. I can't seem to get fully away from music of the past. My first love-at-first-listen has always been Pink Floyd; I became obsessed with the great abstract lyricism Roger Waters and the imaginative solos of David Gilmour, as well as the coordinated efforts of Wright and Mason. Their music was not flashy – the parts were usually simple, but put together and stylized in a way that made them revolutionary and an absolute pleasure to listen to. They never played too many notes, or too few. Everything always sounded in just the right place.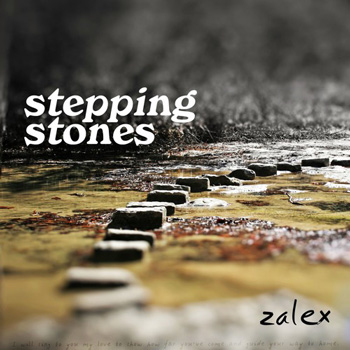 Zalex is predominantly an electronic music artist, and his style of music is as far away from Pink Floyd as you can get…well not really. I just can't say enough about how much talent Zalex has for songwriting, singing and instrumentation. What I like so much about this new song, and his previous 3 releases, to be honest, is how everything seems so well placed.
There is no "look how many notes I can play per second" or "look at this cool trippy digital sound I can make, or listen to how high I can sing." Everything he does just fits the song perfectly. He gives you plenty, yet always leaves you wanting more.
The lyrics are great. It's kind of funny, because for me, I consider a song to have good lyrics and singing when I don't really listen to the lyrics, I just listen to the whole musical scene, like standing back and looking at a landscape. I can do that with this track, but I can't do that with a lot of bands, as they either try too hard to be abstract and metaphorical, or throw a flashy or overelaborate musical arrangement in my face.
I consider this great lyricism a rare talent, and Zalex has it, not to mention that he has a great singing voice, and utilizes it with rich vocal textures and harmonies, to bring the gentle persuasive gist of his lyrics home: "Chest burns as questions swirl / Like dusty beliefs in the gust of a desert / Dying fruit from answer trees has dried up with the leaves".
Instrumentally, Zalex has the same knack that Gilmour does of making it sound like the backing music and the vocals are pieces of a puzzle that only sound good with the other present. So it doesn't' really matter what type of music you are playing – Pink Floyd's epic rock, or Zalex's electronic pop, the same rules apply when making good music. And one of the first rules in making tasteful music is dosing your ingredients just right, something Zalex excels at time and again.
"Stepping Stones" seems to float on an airy electronic breeze immersed in luscious melody and harmony punctuated with the perfect mix of digital effects and pure heartfelt emotion. To sum it up, if you're having trouble finding modern electronic pop music to fall in love with, which retains the intelligent musicianship and crafty structures of classic eras gone by, then listen to "Stepping Stones". This is the art of learning from the past and building towards the future of quality music, regardless of genre.
OFFICIAL LINKS: WEBSITE – SOUNDCLOUD – FACEBOOK
Please follow and like us: