KonQuest Now member and co-founder, VerseBorn has released his latest masterwork. The lyricist, beat producer, engineer and arranger keeps his head to the grindstone in search of captivating new audiences with the single, "Gold Frame". The track is probably one of the better conversational rap tracks I've ever heard in a while and it is amazing from a lyrics and beat perspective. This time around VerseBorn leaves the production honors to Eneme, concentrating his craft on the lyrical experience.
I feel as if "Gold Frame" holds up very well to the best in the game right now, not only from a lyrical and stylistic standpoint, but also from an intellectual and philosophical viewpoint as well. It's like a culmination of VerseBorn's work has finally come to a head.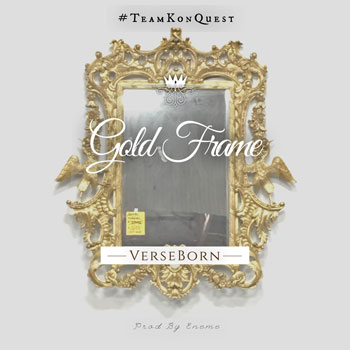 It seems like he went to work in the lab and crafted his finest work yet. Moving between intellectually poetical to street philosophical, "Gold Frame" is the perfect vehicle for VerseBorn's flow. At times cryptic, you'll need to unwind your mind to unravel the meanings of each phrase, while some are easily digestible, like:
"All my people really seem to know is pain
Quick to sell souls for a gold chain
Art shows hearts on the canvas
Portraits hang reflecting life behind gold frames"
I've always gravitated toward rappers whose personality matches their lyrical precision. For me, hip-hop is about the feeling you get from it, not just the words you hear being said.  VerseBorn is an audacious rapper, seemingly without a filter and carrying a wealth of knowledge and cultural references which will surely earn him a fiercely loyal fan base.
"Gold Frame" is a dynamite track, which is to be expected from someone so prolific and talented. The moments when his personality and lyrical maneuverability are the focal point are when the track is at its best. And that happens frequently throughout the verses here.
With a slew of polished releases that boasts a balance between production and rapping that complement each other through and through, VerseBorn continues his inexorable march towards spreading knowledge and positivity among the masses. And it's a formula that sticks!
OFFICIAL LINKS: REVERBNATION – KONQUESTNOW – FACEBOOK – INSTRAGRAM – TWITTER – LYRICS
Please follow and like us: