In 2017, two close friends Rich and Raymo chose to bring their talents together and form the EDM group RaR. Rich from Sydney, Australia, has been packing dance floors everywhere, From Splendour In The Grass to Greenwood in London, while Raymo has been about as far from music as a person can be, until recently, when he decided it was time to make his passion for music into a full-time pursuit. The two put their artistic wares and personal chemistry together to create their debut, entitled "Darkness". Recently RaR dropped their latest offering "Worried About You" ft. J.Burney, certifying they would receive the deserved industry attention.
Emotional and deep, this song will give you chills if not strike a chord in your heart. I'd be lying if this song did not invoke some feeling when I heard it. It has a strong meaning, an intense beat that goes from chill to mid-tempo and back in a second and a beautiful voice to seal it all together. It feels so spiritual and somehow out of this world.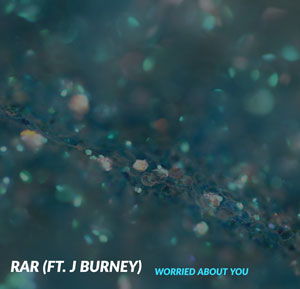 The music is full of maturity, it is rich, powerful, smart, catchy, explorative, intense, and very direct in targeting a particular feel. "Worried About You" ft. J.Burney, as a whole, has a melancholy yet positive feel to it. RaR uses nuanced instruments and effects, and haunting vocals to make a flowing, beautiful, complex, and encompassing work of EDM art.
Emotional, deep, beautiful – this definitely isn't your run-of-the-mill top 40 dance track, but that's why it's so very worth your time. RaR prove their prowess at making you feel real feelings and hold your attention for the duration of the song.
With keen ears for detail, it's no surprise that RaR is currently out-performing most of their peers in a side-by-side comparison of the depth and breadth of melody construction and track composition. "Worried About You" ft. J.Burney, this is one of those songs that you shouldn't listen to until you have time to click on and listen completely uninterrupted right until the end.
It will immerse you in an all embracing emotional status that you won't want to walk away from anytime soon. RaR have an ingenious way of making you feel feelings, and this particular song will always pull at your heart strings, no matter how many times you listen to it.
The standard four-on-the-floor beat, predictable big build-ups, and massive bass drops heard in every EDM single nowadays are nowhere to be found on this here. Instead, we are given ultra-lush synths, a delicate beat and a melody to sit back and listen to, as an experience. "Worried About You" ft. J.Burney leaves the audience with a vague sense of having undergone a journey filled with wonder.
OFFICIAL LINKS: INSTAGRAM – FACEBOOK – ITUNES
Please follow and like us: