The single "Close my Eyes" is a project intoxicating in the extreme, but one that is consistently engaging, with some delightful subtleties and nuances that require no specific musical tastes to appreciate and enjoy. Slow, meditative with an almost haunting atmosphere, its resonance is extraordinary and affecting. As a whole, Nova1322 succeeds at doing something tricky, she caters to the theories of minimalism, mesmerizing melodicism and ambient flavors, all in equal measure. Based in California USA, Nova1322 is a solo independent singer-songwriter with a penchant for ambient music and coffee.
"Close my Eyes" is recommended to anyone wanting to experience a beautiful and evocative soundscape created out of a highly original sensibility. Its very easy to become lost in the music that Nova1322 makes. Toweringly sublime yet invitingly human, her compositions have an uncanny power to transform whatever space it's played in. Something about her music remains approachable and deeply personal.
"Close my Eyes" is so pure and reliant on moments of quiet that allow Nova1322's ethereal voice to pierce the subconscious. This single is the work of an artist growing smartly, to scale with sophistication, rather than bluntly adding on needless bells and whistles. She carries her voice in layers of soft, radiant texture to build an effect of echoing resonance, which captivates the listener. It's also what makes the track more ravishingly blissful.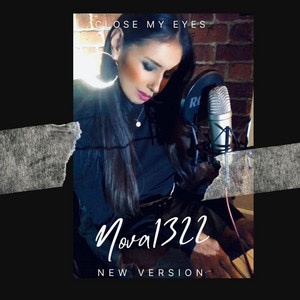 "Close my Eyes" is a track of deceptive simplicity, built smartly upon Nova1322's lovely voice, layered into skyward choruses. The song progresses slowly, as her vocals let out whispery tones to ground the song, and then releases sweeping higher notes like rays of light. It is truly something to behold and very inebriating. It is angelic and ethereal – two overused phrases in this medium that really do fit quite snugly with this song.
There is not a single second of "Close my Eyes" that is not gorgeously alluring sonically. Moments like these can often feel simulated or overly affected, but here it flows naturally, inviting the listener to ascend along with it. Listening to the song, infused as it is with Nova1322's signature blend of layered, celestial vocals and textured, ever-evolving synths, it becomes crystal clear: aural transcendence is just one of many revelations the track has to offer.
The music of Nova1322 desires patience, yet that is one of its particular pleasures. It never fades into the background instead captivating your attention with softly unfolding flourishes that serve as confirmation that her music can tell its own tale, one that is incredibly evocative.
The capacity to project your own emotions through the song is part of the charm, and though music that engages the listener in this manner frequently risks becoming insubstantial in its own right, "Close my Eyes" is a completely realized project.
As soothing and haunting as Nova1322 music can be, it has many moments that reveal the humanity and nuance that lie behind it. On her new single, "Close my Eyes", her art has reached a new zenith. It is a profoundly enchanting and beautiful work.
OFFICIAL LINKS:
Website: www.nova1322.com
Instagram: @nova1322music
YouTube channel: @ngarcialight
Please follow and like us: