The sun is shining, the reasonably warm air is crisp and refreshing, the cruel winds are nowhere to be found. You put your headphones in and start walking with a spring in your step and a smile on your face, rejuvenated by the rare taste of enjoyable weather. Now what song should be the soundtrack to your unexpectedly pleasant walk to the beach?  "You're the Reason" is a track by Czech Republic DJ-Producer Lucas, featuring singer Thomas Daniel.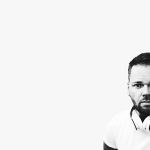 The production is a delicate, classy affair. Instead of swamping the song with an overbearing but lifeless beat, Lucas' percussion adds a relaxed, island-esque vibe ideal for those long summer walks by the beach – and when Daniel steps up to the microphone, there is enough warmth in his voice to light up the night too.
Lucas crafts electronic music with a melodic instrumental base supercharged with positive vibes. Brimming with sun-kissed flavors and sonic Southern California iconography, "You're the Reason" hinges on nostalgia for glistening bronze skin, sand snug between the toes, and young love and lust.
It is the perfect soundtrack for those clinging to the thoughts of summertime. When done right, an artist can invoke nostalgia without losing their purpose or their integrity. And Lucas strikes this balance by creating something undeniably modern that still harkens back to simpler times. There's a poignant realism to the lyrics too, as they resonate with anyone who has felt the pangs of love, desire, and the distance between.
Of course to carry those lyrics you need a nuanced voice, warm and rich enough to transport the listener into an emotional and euphoric state of being, and Thomas Daniel proves to have all vocal the attributes for the job.
"You're the Reason" is a radio-ready electronic track driven by hope of things to come, and the overt happiness of having seen 'the reason': "I needed you more in my life / Than you could ever know / Cause all that I'm feeling inside / Starting to take control / I'm dreaming in color and lights / In ways I've never known / And now I can see it / You are the reason."
No matter the listener's age, the world could use a little more love magic—and Lucas just may be the man to bring it. So before you declare some other EDM-inflected track as your song for the upcoming summer, get yourself to a Lucas playlist. This Czech artist is ready to provide the next evolution of melodic EDM.
OFFICIAL LINKS: LUCAS ► THOMAS DANIEL ► ITUNES ► SPOTIFY ► YOUTUBE
Please follow and like us: