How often do you get to hear a full length live album of twenty instrumental songs played on the ukulele? And what if those songs were being played by an artist considered to be one of the pioneers of the ukulele in Brazil? Someone who has toured the world, taking his ukulele sound, to the most diverse countries – from Brazil to Canada, Italy and South Korea, among others. Someone who dropped a parallel career as an Information Technology entrepreneur in 2017 to fully dedicate himself to music and the ukulele. The Brazilian musician, composer, arranger and musical educator, in charge of the Toca Ukulele Project, João Tostes, is one such artist.
And the album in question, would be his latest 2020 release, "Live Ukulele Here, There & Everywhere", on which João Tostes exhibits dazzling musical dexterity, his canny arrangements, and his way of letting his feel for sound and structure direct him around musical corners and down unexplored musical paths.
The album which is a compilation of cover and original songs performed live, between 2016 and 2019, also features players, Diogo Fernandes, Felipe Moreira, Jonas Loi, Vinícius Vivas and Rio Saito, who ably assist João Tostes in communicating his musical vision.
The 20 songs  recorded over 4 years in 8 cities, showcase classic tracks like the Beatles' "Yesterday", and Leonard Cohen's "Hallelujah", to Waldir Azevedo's "Brasileirinho", as well as the world-renowned "Girl From Ipanema". The recordings were made in Brazil, Canada, Italy and South Korea, while interestingly, the album cover was designed by João Tostes 10-year-old son João Victor Tostes.
João Tostes take on Leonard Cohen's "Hallelujah" opens with a reverent, almost hushed, tone and proceeds slowly into the transcendental space that Tostes and Diogo Fernandes creates. Overall though, Tostes, who was the first ukulele player to be on national television in Brazil, has done a stellar job on this latest musical effort.
All of the songs are distinct and well-crafted, and moving through highlights like "Flor Amorosa", "Asa Branca / O Ovo", "Delicato Ukulele", "Bodysurfing", "Lua Branca / Gaúcho (O Corta-Jaca)", "Alivium", and "Ashes", it becomes clear that his prowess on the ukulele is unparalleled. It is worth more than just a passing glance, especially since there is something in these songs for everybody.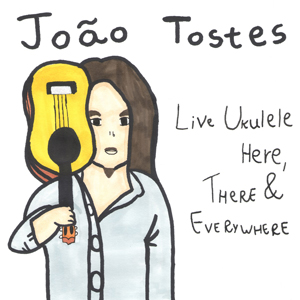 With each subsequent release, ukulele player João Tostes takes another step away from being merely a Brazilian phenomenon. At this point his international status is permanently cemented. "Live Ukulele Here, There & Everywhere" further extends his reputation as a marvelously talented ukulele playing sensation.
An adventurer who is constantly seeking to expand the audience for ukulele, João Tostes is capable of crafting catchy pop motifs, New Age-flavored dreamscapes, delicate lines akin to classical themes and crunching fiery work that packs an energetic punch.
Such is the presence created by João Tostes and his ukulele, on this album, that the pleasure which bounds forth is not only atmospheric and rhythmic, it positively invokes the passion found in the realm of imagination and asks the listener to embrace the fundamental essence of tone, mood and musical environment which the ukulele can provide. There is a wealth of music that the album invariably thrills the listener with, that captures the heart and allows the instrument to break loose from its expected bounds.
"Live Ukulele Here, There & Everywhere" is an album open to the feeling of majesty, and of deftness of touch; free, passionate and full of life, with a sound that not only fills the room with warmth, but with grace and a sense musical meticulousness. João Tostes is living proof that the sound of the ukulele can rigorously and unwaveringly pliable.
OFFICIAL LINKS: WEBSITE – FACEBOOK – INSTAGRAM – TWITTER – YOUTUBE – SPOTIFY – ITUNES – DEEZER
Please follow and like us: