In the electrifying world of music, where genres collide and talents flourish, emerges a force to be reckoned with – the Colombian-born, LA-based rap sensation, Baby Sublime. With a musical journey that spans continents and genres, this multi-talented artist has honed her skills in music production, DJing, singing, dancing, and even mastering the piano and guitar since the tender age of 12. From rocking stages with an 80s cover band to gracing Colombia's biggest label, Codiscos, Baby Sublime has never shied away from exploring diverse musical territories. Now, she ignites the scene with her latest Spanglish rap endeavor, an infectious groove entitled "Got No Mercy." This cutting-edge track melds hip-hop flavors, witty lyrics, and an irresistible chorus that seamlessly intertwines both cultures, showcasing Baby Sublime's sassy delivery and razor-sharp wordplay.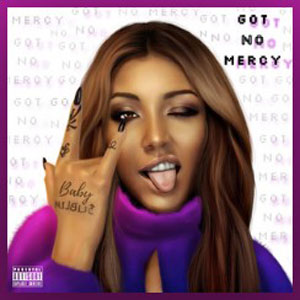 "Creanme quiero ser buena," she spits, in the opening verse, revealing her desire to be good, only to encounter the heart-wrenching sting of betrayal. Baby Sublime fearlessly exposes her vulnerabilities, transforming them into a fierce declaration of independence. "Then some people hurt me, and fuck, that is my proof," she proclaims, turning pain into a testament of strength. "It's better to walk alone, like Lonesome George," she quips, drawing upon the symbolism of the solitary Galapagos tortoise. Through it all, she finds solace in her unwavering bond with her mother, who loves her unconditionally, "Que me quiere como soy."
"Why people wanna hit me, verme a mi caer," Baby Sublime ponders in the chorus, bewildered by the desire to witness her downfall. Despite her unwavering loyalty, she embraces her newfound identity as the bad guy. "I have fought many fights, I have fallen many steps, pero siempre que me caigo, vuelvo a renacer." Like a phoenix rising from the ashes, she emerges stronger and more resilient. Addressing her detractors, she challenges, "Chicken is ur name, cuz if u wanna fuck me, you're afraid. Scared of me, yeah, miedo o que?"
The relentless pursuit of authenticity drives Baby Sublime's artistic mission in the second verse. "Porque hago el esfuerzo, I do my best," she asserts. The weight of her dedication shines through as she navigates through a world filled with jealousy and deceit. "Are u jealous, yeah? Come check this," she dares, inviting her adversaries to witness her triumph. Rejecting conformity and questioning the constraints of society, she boldly questions, "Why follow the rules or go to school? Why? They never gonna teach u how to beat a wolf." Undeterred by societal norms, Baby Sublime assumes the role of a fearless leader, empowering her listeners. "La baby bae te enseña how beat a wolf."
With unapologetic conviction, Baby Sublime exposes the treachery lurking in the shadows in the third verse. "Laughing behind my back, and guess what my friends, que surprise," she proclaims. Trusting no one but herself, she embraces the power of self-reliance. "Ya no confío en nadie, it's me myself and I," she asserts, standing tall against the forces that seek to undermine her. In the face of deceit, Baby Sublime's resilience prevails, as she declares, "Not this time, ya no me engañas." She embodies the strength of a lone wolf, fearlessly forging her own path.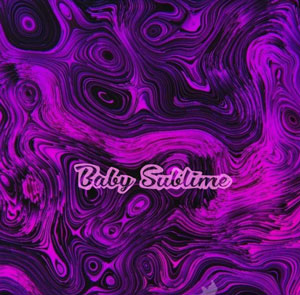 In a moment of introspection, Baby Sublime shares her thoughts with raw honesty in the bridge. "Y ahora no sé qué hacer, qué voy a hacer," she contemplates, facing the uncertainty of her journey. Amidst the chaos, she finds solace in the companionship of her faithful companion, her little pet, who never leaves her side. It's a stark reminder that while people may come and go, some things remain constant. "They never gonna leave me, creeré," she muses, finding comfort in their unwavering loyalty. In the face of adversity, she acknowledges the simple pleasures of life, as she declares, "Al menos hay pa comer."
Returning to the infectious chorus, Baby Sublime beckons us to join her on this thrilling rollercoaster ride. "Now come with me and mark my words, I got no mercy, oh my lord," she proclaims with an unwavering confidence. Her words reverberate, leaving no room for doubt. It's an invitation to witness her unyielding spirit and unapologetic artistry. With each repetition, the message grows stronger, empowering her audience to defy societal expectations and embrace their inner strength.
Baby Sublime, the trailblazing Colombian-born rapper, is breaking barriers and redefining the hip-hop landscape with her Spanglish rap revolution. Drawing upon her diverse musical background and personal experiences, she fearlessly confronts the betrayals and challenges that come her way. With "Got No Mercy," she delivers an anthem of resilience and self-empowerment, inviting listeners to join her on a journey of unapologetic authenticity. Baby Sublime's irreverent lyrics, infectious groove, and razor-sharp wordplay captivate audiences, leaving them eagerly awaiting what she has in store next. As her star continues to rise, there's no doubt that Baby Sublime will be inspiring a generation to embrace their true selves and never back down.
OFFICIAL LINKS:
https://youtu.be/6aSwHjfU67M
https://instagram.com/iambabysublime?igshid=NTc4MTIwNjQ2YQ==
https://on.soundcloud.com/QnZmB1Ud6vLkGnRNA
Please follow and like us: