Walker's Cay is an original rock band based out of Toronto, Ontario, Canada.  Members include Gary LaBarr, (Vocalist/Rhythm Guitar/Keyboards), Mike Swain, (Lead and Rhythm Guitars), Tim Morrissey (bass) and David "Dave" Pistilli (Drums). The band, who gets its name from an "out island" in the Bahamas, is stylistically and technically reminiscent of bands such as Styx, Journey, Def Leppard, Toto, and Heart. Walker's Cay is currently touting two singles – "Why Oh Why" and "Tell Me".
Some outstandingly gentle, acoustic-guitar-laden melancholy can be found in the opening of "Why Oh Why". The band's intent is not too apparent from the get-go as they carefully hide the crunch to come.
Carefully picked guitars give way to swirling vocals and irrepressible percussion, and ultimately the anxious candor of the lyrics cuts right through it all, to uncover a sanguine mid-tempo track. The four-piece rock unit then proceed to elaborate the instrumental content.
Walker's Cay paint a musical tour de force, with drums, bass and guitars pushing the momentum, while the keys and further color the template. The result is a lusciously layered and complex arrangement of symphonic-styled swirling guitars and absolutely watertight drumming.
This is a high-quality release from the band, which remain at the very near the top of their game. There are moments of pristine beauty here, as well as anthemic singalong, and punishingly heavy passages.
Besides the aforementioned single, "Tell Me" represents another highlight for Walker's Cay. It's essentially a bright-sounding, catchy rock song with a dark theme that sweetly transitions from gentler acoustic driven sections, to chunky overdriven riffs, dominated by dual guitars, ace drumming, and soaring vocals.
As soon as the melodic guitar-picking lines kick in, you know you're in for a brilliant track. The production is organic and crystal clear, as always from Walker's Cay. The song "Tell Me", builds to incorporate some incandescent harmonies, a powerful melodic motif, the echo of resonating guitars and some dominant lead vocals.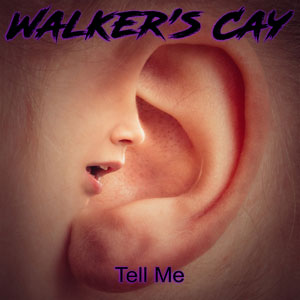 It's an afflictive relationship-themed song, which takes you on a journey, with several twists and turns, and has all the ingredients to become a fan favorite. Lyrically and musically, this is the kind of song that will withstand the test of time. It's really very accessible stuff, but dealt up with a haunting melody, evocative lyrics and deft musicianship.
Both, "Why Oh Why" and "Tell Me" showcases a powerful outfit breezing through a rich, driving pair of songs. These phenomenal musicians live up to Walker's Cay attention to detail. Their technical skill transcends ego in the service of the songs, and the band has carefully calculated the dynamic shifts to match their vision. Walker's Cay well-rehearsed approach makes them the antithesis of jam band improvisers, but the music still feels fresh and lively.
Walker's Cay's compositions balance grand musical gestures with introspective, thoughtful moments. This contrast offers winning progressions, mixing impacting tempos and rhythmic power. Walker's Cay is undoubtedly one of the few melodic rock bands out there still plying their musical trade scrupulously sticking to the original script. Every new entry into their discography has something to say, musically, lyrically, technically and thematically.
OFFICIAL LINKS: WEBSITE – FACEBOOK – TWITTER
Please follow and like us: