Right from the moment established Finnish Turku singer-songwriter, multi-instrumentalist, and professional visual artist, Mauri Dark, conceived his debut album, "Dreams Of A Middle-Aged Man", he had a clear image of how the album was going to be: "A minimalistic, honest, intimate, personal and autobiographical singer-songwriter album, with a background painting of sparsely added acoustic instruments. Timeless songs with a natural sound. Vocals and lyrics in the center of everything, backed by acoustic guitar." And that is exactly how the final cut of this introspective masterwork has turned out to be.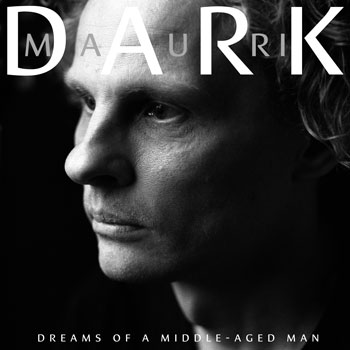 Formerly known as Mauri Myston – the founder, guitarist, vocalist and songwriter of the metal duo Mystons – Mauri Dark's personal life has impacted his music, and this album in particular. The tormented illness and passing away of his mother, due to cancer; a break-up of a 7-year relationship; the discovery of a new love, and entering into wedlock; the birth of his baby daughter. And all the while Mauri had been making music and writing songs for 25 years, and had no intention of stopping.
His song "Dreams Of A Middle-Aged Man" prompted the theme for the entire album, as Mauri Dark picked up the puzzle pieces of his life story and aspirations, and put them together in a 10 track collection. With this recording, Mauri Dark's proves that he belongs to that exceedingly small group of artists who maintain their originality and creativity. The lyrics of virtually every track seem perfect: never forced or contrived, brilliantly vivid, and tailored to the song's theme.
Right from the outset, with the opening back to back tracks, "Poison Woman", "Worst Enemy" and "Renegade", Mauri shows an inimitable agility and control in the storyteller's room. His honest conversational tones, being his ace in the pocket, while his baritone voice is potent, expressive and true to himself. Mauri has reached a full understanding of his life's course, and every note and inflection is well-placed to drive home the emotional responses of his perceptions.
The album contains no weak or filler tracks. Co-Producer Jussi Vuola and mixing engineer Hiili Hiilesmaa made sure the blend of organic and sampled instruments are suitably spare and supports the words, never getting in their way. All of which beautifully comes to the fore on the aching "Love Will Prevail" and the pastoral "Shades of Gray". Finally, it all comes down to Mauri Dark, whose words are brutally honest about himself and everything else.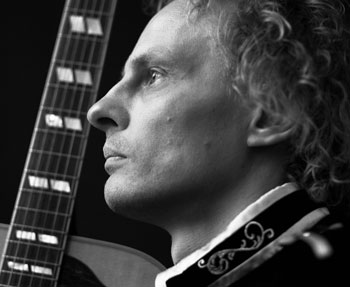 This brutal honesty ascends powerfully on "Chains Of Solitude" and "Hymn For A Wanderer". Mauri's gravelly voice, philosophical insights, and rich vocal deliveries, augmented with excellent production, combine to make a deeply affecting sound experience. Starkly beautiful and spare, stripped to the strum of an acoustic guitar, and little else, the lyrics seem almost to come from some place deeper than words.
The aforementioned aesthetics are probably best executed on "Thin Line Of Understanding", which also happens to be my favorite track on the entire album. The ability to connect his personal observations and experiences to the outside world with minimal effort, drives the elegiac and ear-warming melody of this exquisite recording.
"Up To Us" sees a mature man take stock of all the things that have brought him up to this point in his life, as he asks the pertinent question: "Does destiny play a part, or is it all up to us from the start?"  All of which brings us, to the reflective title track, "Dreams Of A Middle-Aged Man".
Profound, and reflective, its melancholy mixture of picked acoustic guitar, and subtle orchestral flourishes virtually compel you to bow your head in hushed reverence, as Mauri Dark's voice draws power from his narrative. It feels like the best possible ending, to an immersive listening experience.
Connect with Mauri Dark on his WEBSITE. Stream and download his music on APPLE MUSIC.
Please follow and like us: