In the seventies, British Glam rock (or Glitter rock in the USA), and subsequently Hair metal, added a splash of color and sparked a different kind of cultural evolution – thrilling music, the spectacle of identity, dressed up in spectacular costume, and a frizzle of provocative sexual tension. Unlike their predecessors, glam rockers, didn't want to change the world; they wanted to escape it, creating an out-there performance-art theatricality. Glam rock's brief imperial phase at the start of the 70s may have passed quickly, like all of the best popular music movements do, but those flamboyant rock funambulists had left an imprint on the imagination of future generations of musicians. Just ask current Glam rockers, Love Stallion.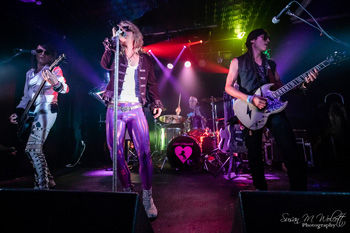 Love Stallion began as an experiment; a spur of the moment co-write of the song "Big Rock Radio" by Aaron Hart & Crayton Huntly (aka Rob McLemore) outside a concert hall in the fall of 2013.  Inspired by the "big rock" sound of the 70s & 80s, the duo enlisted the help of industry pros Dr Scott Martin & Kate Emerich, "Aaron Hart w/ Crayton Huntly" played their first show May 1st, 2015 at The Walnut Room Denver.
With the addition of Aero X (aka Aero Marquez) joining on bass, the band became recognized for their high energy live performance, as well as flamboyant wardrobes of sequins, spandex and leather. Love Stallion's 'Unforgettable Ride' album was produced by Steve Avedis (Tony Bennett,*NSYNC) at Colorado Sound Studios and was released on June 2nd 2018.
'Unforgettable Ride' is so full of great hooks, great riffs, great tunes, great melodies, it is absolutely a joy to listen to. While this album is chock full of rockers, not to be overlooked, is the gripping heart-felt ballad "Valentine". These dudes have obviously studied their craft, spent the required time on their instruments and then some. Pop it in, turn it up, press to play, and enjoy. It's really that simple.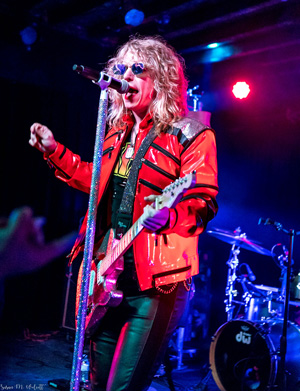 Opening with "Slow Release", which struts in on a chugging head-banging beat, Love Stallion unleash their rock prowess – from vocals to instrumentation. Confirming that they are no parody or caricature, but the real rocking thing for the new ages.
The cowbell drives the intro of "Ignite the Night" as Love Stallion pump up the volume and turn on the harmonic heat with driving basslines and strident vocals. This is the freshest, most original and most fun rock band in years if not decades. Great guitar work and a pounding rhythm section push "Big Rock Radio" to the fore, once again forging a powerful melody and huge harmonies.
"Lazy Summer Dream" brings a moment of respite, before the song explodes into a thunderous wall of sound, and then goes full circle again. The riff heavy "Hide Me Away" is a perfect showcase for the intense, high register vocals and tuneful lead guitar solo.
"Tinker Toys" shows off plenty of chunky riffs, repeatable lyrics and choruses hewn from the very bedrock of the Earth's largest mountains, before introducing the mid-tempo ballad, "Valentine".
Slyly, Love Stallion leave the best for last, so you go away from the album infused with blood-pumping Adrenalin. "High Time" and "Trans Am" deliver high energy rock of a classic caliber, overflowing with all the goodies necessary to give any rock n' roll fan a back-to-back sensation of explosive eargasms.
OFFICIAL LINKS: WEBSITE – FACEBOOK – TWITTER – YOUTUBE
Please follow and like us: