Knarly Jones is a producer from Detroit, Michigan. When not producing music he is working on a theory of quantum gravity and works as a math professor, holding positions at two universities. He holds a dual Ph.D. in mathematics and physics and actively does research in theoretical astrophysics. Combining a traditional electro feel with cinematic hits and strikes he has crafted the "Knarly" sound, which blends together with Electro and Progressive House. His latest track, "Atonement" is pure energy, a modern-day club symphony coming at you hard and unyielding every second of the way.  It sounds spectacular, and is undoubtedly one of the coolest EDM tracks of the year so far.
Knarly Jones makes the loudest, hardest pulse-pounding window-rattling music imaginable on "Atonement", and thrusts the whole shebang raw and uncut into the audience's collective consciousness. And it works like a charm. In between, he mixes in melodic female vocal adlibs, eerie atmospheres and growling synths.
Addictive stuff, which you will find yourself listening to, again and again. I listened to it over and over, the track's relentless momentum and go-for-break energy etching itself into my memory. Emotional, evolutionary, and haunting, "Atonement" is a great melding of the electro style with a commitment to more dramatic cinematic sounds.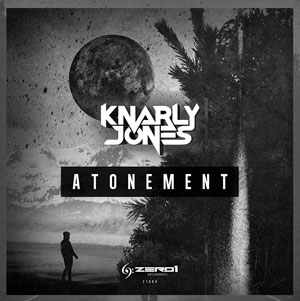 As a thumping beat drags you along, bass assaults your senses, percussion blasts you into infinity, voices lull you into a trance, and screaming keys cut the night sky. The track packs enough sonic treasures and mood-inducing storms that Knarly Jones is known for. With EDM leading the way, audiences will welcome "Atonement" as a quintessential electro house record that redefines what dance music can be.
Once the track kicks in, the beat gets you moving and really makes you feel alive. This guy presents a wide range of his abilities, from familiar a club rhythm to more experimental sounds. The result is an emotional piece of dance music, the perfect evolution from earlier releases.
Dance music has almost always been a constant source of motivation, joy and energy, and "Atonement" reloads that source, retaining Knarly Jones' signature and industrious vibe, as expected. The track has been passionately crafted, and brimming with sentiments.
Evidently, Jones has found the right balance between commercial sounds and his own personal signature style, without watering himself down. Something we can love and appreciate. "Atonement" is another impressive peek at the slew of experimental sounds Jones is able to lay down and fill up the arrangement.
Whether throwing down relentless energy in a nightclub setting or igniting momentum across some of festival stages, Knarly Jones' innate ability to create and perform crowd-pleasing, hands in the air, gripping dance floor records is what paves the way for his continuum of success.
The producer's level of inventive music is soaring beyond expectations this year, with the release of "Atonement". Knarly Jones' exhilarating passion to produce music is leading him full force into the industry where he has proven his worth through every track he puts out, and every crowd he performs for.
OFFICIAL LINKS: WEBSITE – SPOTIFY – ITUNES
Please follow and like us: