Chances are good that if you're coming to this music now it's probably by way of other retro-synth or synth-wave music. That's perfectly awesome because I love a lot of the bands and musicians associated with that scene and movement but I feel the need to say this track, "Things That Are OK About Me" in particular stands out. Yes, all of those nostalgia hooks are there but the production values and cinematic scope of the music reach a point where songwriter and producer, Dario Margeli, isn't just referencing his influences but actually building upon and expanding them.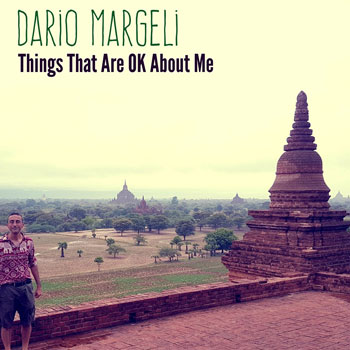 The song is rich and lush but also knows when to be spare and breathe. That shows a lot of maturity on the part of the songwriter in my opinion. It's a track that you can naturally dance to, but you can also listen to it while writing, out for run, playing a game, or just sitting down and chilling. Because notwithstanding the upbeat tempo and funky groove, the song is smooth and mellow in essence and flows like a cool water stream through any speaker or headphone set.
This has ended up being without question one of my favorite tracks in the genre, I have heard during the last few months. "Things That Are OK About Me" has all the awesome synth grooves and tones that you might find on any great album in the genre, but also adds cleverly arranged vocals and just the right amount of funky electric guitar. I own a lot of music in this genre, and this one truly stands out for its well-balanced production.
This is a genre which can easily be overwhelming with a plethora of pumping synths loudly dominating tracks, instead the production, which was originally done by Dario Margeli, and then remixed by Ziemowit, in this occasion, comes across as very tastefully cultivated with immaculate dynamics.
The result is a song that has a retro vibe, as intended, but has modern musical sensibilities which make it an extremely easy and great listen for just about anyone. Margeli explains that: "The self-help spiritual lyrics of the song invite the listeners to look at what is right about themselves when other aspects of their lives might not be going well. Even when certain things are not happening as we expect them," says Margeli, "there are still aspects that are functioning well."
Dario Margeli is a master of cool 80s synth- based music and drum machines, and his understanding and re-framing of the era and synth-pop genre is genius.
MORE ABOUT DARIO MARGELI: Dario, whose recordings feature amazing session guitar players, including Hugh Williams from Florida and Philip Ockelford from near Cambridge (U.K), is a naturalized US Citizen from California now living in Europe. However, his parents were foreigners. He took music lessons in the 80's, but eventually decided that what he loved most was songwriting, which he learned from carefully studying the structure of songs by Chic and Brass Construction (70's funk band). In 1990 he recorded some demos inspired by vocal deep house music of artists such as Fingers inc. (Larry Heard). He then had to attend college and work, leaving music behind.
In 2008 he participated as a liner notes writer in a pair of CD's released by NowAgain / Stones Throw Records, which inspired him to get back into music and in 2011 he released his first single. Since then he has had minor success in Italy, being featured on Italy's main radio and TV network RAI, as well as in magazines and an advertising campaign by clothing firm Sisley (Benetton). In 2013 Dario started studying Buddhist meditation and decided that his songs would be based on the well-being and spiritual concepts that he is learning.
OFFICIAL LINKS: SOUNDCLOUD – FACEBOOK – TWITTER
Please follow and like us: