Tory and Tia are a new delight for me. There is a delicacy in their single, "Tell It To My Heart" that I really like. The contrast of the edgy, almost moody delivery in the verses and the sweet and vulnerable delivery in the chorus is played against one another very well.  This song features an amazing synth and bassline, solid harmonies, and strong 80's pop undertones as well as emotional appeal and seems to be very well written.
Tory and Tia manage to put their best voice out there and pull you in; after two listens of "Tell It To My Heart", you will be hooked on these two sisters. And I mean real sisters!  Tory and Tia are two beautiful teenage sisters, the siblings of legendary Ukulele player Troy Fernandez. The exotic looking Pacific Islander girls, first launched themselves in 2005, performing at the 'Concert of the Stars' before they were even teens.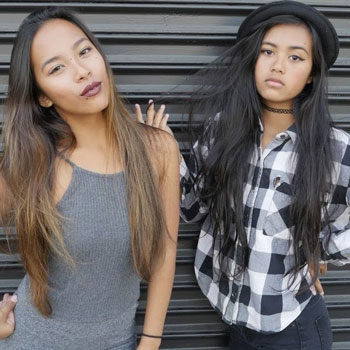 Eventually the Fernandez family moved to Los Angeles, and in 2015 the girls got hooked up with Producer and Talent Manager, Johnny Vieira (Vanessa Hudgens, Janelle Parish, Bre Kennedy). This resulted in their debut EP. Recently Vieira partnered with Qadree El Amin (Janet Jackson, Boyz II Men and others), of Southpaw Entertainment to Co-manage Tory and Tia.
Imagine two sisters, with a musician father, growing up to write their own songs, and develop their own special overlaps and harmonies.  If I wasn't so damned old now, I'd chase them around the planet just so I could hear their harmonies live with my own ears. Tory and Tia's catalog was so much more than I was expecting. It's gritty, pop, honest, funny, joyful, and even nostalgic in places. "Tell It To My Heart" is a pop song with a great harmony-laden chorus that makes good use of the two voices, blending them into catchy ear candy. It practically begs you to sing along.
I am highly impressed with this perfect slice of pop perfection. The melody is lush, and the vocals are uplifting and powerful without being overbearing. Tory and Tia have something for everyone in their performances, and listeners can almost take away one or more feelings of satisfaction or relate to the situations presented in the track.
Delivering Pop with such a sweet edge and infused with a positive attitude – Tory and Tia certainly are making their mark in the world of music, leaving us with a good aftertaste and wanting to go back for more. The secret about the sisters may be out, but what does this feisty duo have for us next? Currently Tory and Tia are hard at work, taping a show called 'Halo Halo' on Channel 18 LA TV for all LA folks to watch!
OFFICIAL LINKS: REVERBNATION – TWITTER – FACEBOOK
Management: Johnny Vieira at jvieiramgmt@gmail.com
Twitter: @jvieiramgmt
Please follow and like us: