For listeners that have missed out on Robot Raven's music, the band's "Greatest Hits, Part One", is a great place to jump in and start listening to them. This release contains 18 of Robot Raven's best works. So how come there's a greatest hits record from a band you never heard of, and who has had its initial spark in 1974?  Well the two member core members Edmond Bruneau (who writes the lyrics) and John Rigg ( who does everything else) just got together to form this band not too long ago.  But it can be likened to a kind of platonic musical relationship, as the two hardly see each other, physically.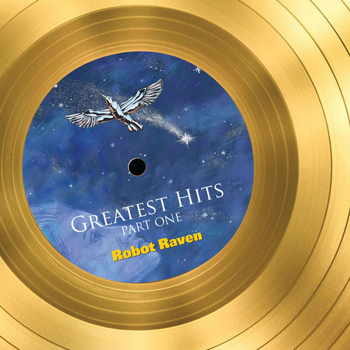 Rigg hardly leaves his farm in Elk, Washington, where he also creates robotic machines, sold all over the world and even to The Big Bang Theory. He has thousands of robots, as well as some horses, and a bunch of recording equipment. Meanwhile, Bruneau is essentially retired from his advertising company, Creative Consultants, which he also used to write jingles for, hanging out on his Greenacres property he calls Raven Haven. The arrangement works for them because they have no desire to play live. They're what you would call, your classic studio band, as we once them in rock music.
Robot Raven has harnessed the power of the internet, both to produce their music and promote it. They send files back and forth while creating music and then use platforms like Facebook and Reverbnation to reach an audience. Together for just about over a year, Robot Raven has already released 2 Greatest Hits records.
So from how they started to how they're going about business is totally unique to the industry. But I guess when you've been playing around an idea for 40 years already, the quicker you get to the 'greatest hits' part, the better!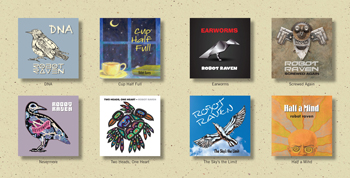 Though the hype is all tongue in cheek stuff, the boys take their music seriously. Rigg points out that every track is recorded with real instruments and vocals. There was a time he wanted a violin solo for one track, and when multiple instrumentalists backed out, he learned how to play it himself. "I only had to learn 12 notes or so, it didn't have to be perfect," he recalls. However, that, I think gives us the measure of these men.
So what does the "Greatest Hits, Part One", say to us once we hit play? Firstly, if you love music, at its core, regardless of genres, you will not be disappointed with this album. As you listen to the music you can hear the influence by the Beatles and many other bands from that era, and not only that era. On this album you can listen to songs that are mellow right up to rock and roll.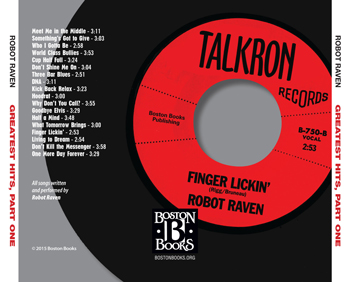 There are also strong traces of Electric Light Orchestra-types of elaborated arrangements. Mostly because John Rigg is musically, very talented, and can put together a song that sounds like you are listening to three different songs back to back with uninterrupted flow, and yet tell one story from start to finish, thanks also to Edmond Bruneau's lyrical storytelling.
When Bruneau writes lyrical hooks, you get the feeling he could whip out Top 40 tunes from any era, faster than anybody if he wanted to — but he doesn't. Instead the entire album is a collection of songs you'll have stuck in your head, wondering how they wormed their way in there.
It's easy to get lost in the record's 18 tracks over and over, if not intentionally then by accident. It's just that the melodies and music is so layered and lush, and steeped in what was once the 'classic' sound of rock n' roll – spectacular and dynamic.
Robot Raven's combined talents as lyricists, songwriters, musicians and producers cannot be doubted. Forty years down the line from their initial meeting, Edmond Bruneau and John Rigg today represent Rock at its best – entertaining, highly professional, original, moody, defiant, cheeky, and mega-listenable…and I didn't even need to mention one single track title out of a whopping 18! What are you waiting for, go grab this thing already!
Sale! Go to this STORE or FACEBOOK and get a CD of Robot Raven's Greatest Hits, Part One or Part Two for only five bucks, including shipping!
Please follow and like us: