The Australian indie artist, Kiran Biswa was born in the Himalayan Kingdom of Bhutan. Unfortunately he had to flee from the country and spend 19 years of his life in a refugee camp in Nepal where music was his only hope to fight against all the adversities. Kiran says, "Music gave me the power to smile against all odds. It is the music that kept me moving forward, and I want to share the message of struggle, hope, enthusiasm and resilience through my music to the global music lovers." His dream was to create a unique fusion of cultures, reflecting unity in diversity, and take music lovers to a sphere of healing and soothing ethnic sounds within a rock context. The result is his first single "O Warrior", which intends to bring forth all of Kiran Biswa's aforementioned aspirations and ambitions. "Everyone is born as Warriors! And nothing can stop your dream and hopes," resonates the song lyrics, making its intentions clear.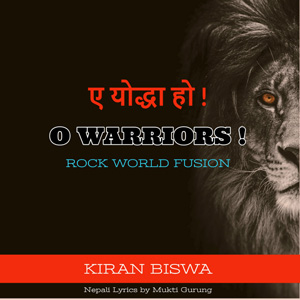 Big soundscapes that run the gamut between driving progressive rock and colorful world music, meet outstanding melodies and rich harmonies that provides you with over six minutes of inspiring and thoughtful music. But "O Warrior" isn't only for die-hard rock or world music fans.
Quite the contrary, it's also for fans that have been always been a little daunted by complex and multilayered songs. Kiran Biswa's music offers a great entry point into the musical world of lusciously rich arrangements. The tune is easy to digest while still maintaining it's passion for arcs of diversity, with musicians from Australia, USA and India, as well as the sound of reputed Australian musician, David Hudson's didgeridoo.
This all makes "O Warrior" a special and a beautiful piece of music. The mix too, is excellent. It is vibrant, clear and warm, with good definition between the instruments. Indeed the playing throughout is of the highest quality from musicians at the top of their game.
The vocals also match the beauty and wonderfully crafted melodies that interchange between each different phase of the song. With this release, Kiran Biswa, in many ways, defies categorization and expectation, by consistently imbuing the music with a seemingly infinite and richly diverse series of cultural influences, in which he finds himself poignantly inspiring and occasionally spiritual.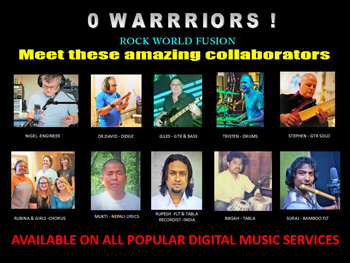 Kiran's composition is unequivocally progressive in nature, its complex, often multi-layered complexions harkening back to a time when musicians, schooled in other disciplines like classical and jazz music, felt the attraction to take that craftsmanship and apply it, somehow, in some way, to a rock context.
Given Kiran's penchant for bringing together a multitude of diverse influences into a still deeply personal conception, "O Warrior" is a track as expertly crafted as many of Kiran's peers have done before him. The track draws upon his far-reaching musical tastes for its colors, textures and complexions, ranging from crunching guitars and thundering percussion to string-driven soundscapes, choral beauty and ambient landscapes.
There may be no single truth in a world of social media posturing, where world leaders are more accustomed to pomposity than building unity, growth and fair ethical treatment for all. However there can be little doubt as to which direction "O Warrior's" definitions of the truth are pointing. Kiran Biswa, the song, and its collaborating performers, are absolutely ready for a bigger, global audience.
OFFICIAL LINKS: FACEBOOK – TWITTER – ITUNES – GOOGLE PLAY – SPOTIFY – TIDAL – AMAZON – DEEZER
Please follow and like us: