It's difficult to pick one project or desert island album that guitarist, composer, engineer and producer, Colin Tench has been on, they all are unique, and all are must haves. With numerous time changes and intricate musical passages Tench's music may not for everybody and may challenge most younger listeners more occupied with downloading singles from iTunes. But this challenge can have great rewards because the talent this artist and his cohorts have is amazing.
Usually everybody concerned with a Tench recording are proficient at multiple instruments, the songwriting skill is superb, and the tunes are timeless. All of the above apply to his latest release "Hair in a G-String (Unfinished but Sweet)". Quite honestly, I believe that an album with such an ingenious title is worthy of purchase regardless of the music it contains!
Colin who started out in a band called Odin, gigging around London during the early 80s, has since gone on to be an essential a part of many different rock-orientated bands through the years, including Corvus Stone and Bunchakeze. "Hair in a G-String" could be labeled Prog before there was Prog," explains Colin Tench. "Split this into the written piece "Hair in a G-String" (about 46 minutes) & "Songs not in G" (About 36 minutes) and you'd have a prog album and a melodic rock album I guess. We didn't do that. We mixed it up. See it as musical interludes between the main action."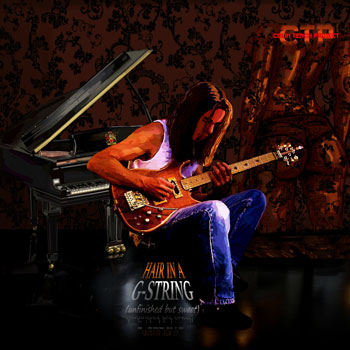 The players and singers on the album include Peter Jones (Tiger Moth Tales & Camel), Petri Lindstrom (Corvus Stone), Phil Naro ( DDrive & Julian Lennon), Vic Tassone (Unified Past) as well as others. "Hair in a G-String (Unfinished but Sweet)" is an absolutely superb, high quality record from the Colin Tench Project. It fits in nicely with the rest of Tench's catalog, expertly balancing accessibility with complexity and variety.
With its soulful singing, layered harmonies and rocking choruses, Hair in a G-String has the perfect formula that allow the Colin Tench Project to deliver the whole package – what enthusiastic new prog rock fans would call 'mind-bending craziness' juxtaposed with sublime hard rock power and alt-pop melody…and what old prog rock fans would simply call…'music'.
The album which opens with the orchestral magnificence and sublime acoustic intro of "Hair in a G-String part 1 (The opening)" contains several highlights, including the superb "Hair in a G-String part 2 (The Hairy Part)" which has some knottily crunchy guitar riffs, a sweeping arrangement, devastatingly quick angular breaks and builds, as well as a beautiful melodic and tuned, percussively driven section, where Tench forges his illuminating guitar prowess.
This track could easily be described as a masterpiece of melody and counterpoint. "The Mad Yeti" is a sweet acoustic-guitar excursion that Paco De Lucia or Al Di Meola would be particularly proud of, as is "The Sad Brazilian", which with its added orchestral layers make some of Hans Zimmer's cinematic compositions pale by comparison.
"And so, Today" is a more than welcome vocal interlude with Peter Jones' voice providing gentle solace and warmth to the proceedings. I'm still trying to figure out which of the three parts of Hair in a G-String I like best, as "Hair in a G-String part 3 (I'm Going Down)" grabs my attention as yet another potential standout track. Peter Jones again delights us with his impeccable vocals, as does the entire band with a tight display of all-round great musicianship.
But once again it's Tench himself that impresses me the most, with an arrangement – both vocally and musically – that probably only an artist as eclectically brilliant as Frank Zappa could have bettered in any way. Okay to be fair, maybe Captain Beefheart could have come close. But that's it. Colin Tench is pretty much in a class of his own when it comes to fleshed-out songwriting.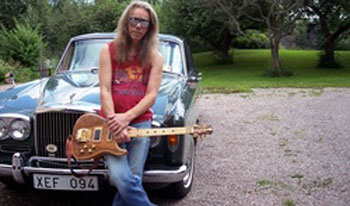 This entire album is a progressive symphony of divergent music that makes a sound that works so damn well, as the Colin Tench Project switches between electric and acoustic soundscapes that will amaze and satisfy real music lovers regardless of genre preferences. I mean how could anybody not appreciate the performance and musicality displayed on tracks such as "Lisa waltzes back in with no G-String" and "Lisa's Entrance Unplugged"? "Something Old, Something New, Something Borrowed, Something Screwed", is again another standout that brings to the fore the wide-ranging colorful contrasts that exists in Tench's compositions. Soft and loud, light and shade, commotion and harmony, melody and rhythm – each musical bar, of every song seems to always be fully explored before moving on.
Moving on towards the close of the album, it would be hard to ignore "A Beautiful Feeling" – a straight classic rock track that has its distinguishing strengths in the uplifting melody and powerful vocals by Phil Naro. Probably superior in several categories to more recognizable bands, the Colin Tench Project captures your attention for its intricate, detailed arrangements, constant changes of signature, spacing and feel…and just because they don't sound like you're regular pretentious progressive rock band.
Any seriously respectable band that can throw a sense of humor into their music always gets an extra star from me, and though the Colin Tench Project has already earned its full five stars, we cannot but assign that extra star for the dazzling tongue-in-cheek brilliance of the track "Part 4b", because at the end of the day music should also be fun, and this track epitomizes that spirit!
OFFICIAL LINKS: WEBSITE – BANDCAMP – PROGARCHIVES – YOUTUBE
Please follow and like us: