If you're looking for something smooth, and engaging, then Kaitie Sly's 3-track self-titled project, is the recording you need to own. Really you should just get it regardless. Katie has an extraordinarily beautiful voice, and when her melodies are expertly backed up with solid songwriting, and catchy trip hop beats you get some amazing songs. Hopefully I'll never be so jaded that I won't be able to recognize a tiny little masterpiece; even when it comes from a genre that I don't particularly go crazy about; even when it has so obviously been produced to wow you; even when it has much more than a whiff of slickness about it.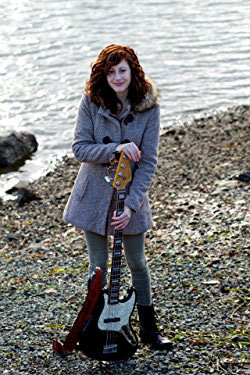 But nobody can calculate all of the elements that come together to make this such an evocative and moving work. I am probably not alone in having "Life Breather" as my favorite track. But the crispness of all of the sounds is so real you could almost eat them.
The strings on "Progress" will go right into your ear and then into your heart, as will the piano and percussion on "Life Breather" or the vocals and bass on "Wanderlust". Anyone who has sampled these equally sulky and scintillating compositions cannot help but fall in love with Katie Sly.
Haunting and ethereal – these are the two words that seem to embody the entire spectrum of descriptors when contemplating the qualities within the trip hop or ambient genres. But Katie Sly's craft goes well above just being 'haunting and ethereal'. Rich in seduction, her voice is a soothing breeze – a breath of melody and polished-smooth enunciation; Lyrics clearly audible, strewn over a backdrop of alternating chords and timbres and tones.
Elegant, delicate and with clever little musical deviations, this EP never tries to do too much, but continuously achieves its specific intentions with commendable results. All the songs here invoke a sense of both something otherworldly and ordinary – like a crack of sunlight shining through a window.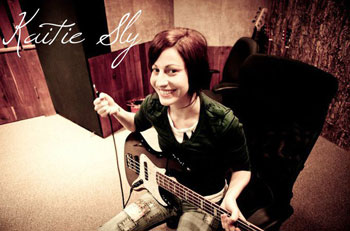 The song structures also demonstrate Katie Sly's gentle but dominant control of its direction, and it's a promising indication of the craft underlying and unifying this recording. The collaborating musicians here also deserve mention for their disciplined, subtle, and measured contributions. Sonically speaking – Katie Sly's subtlety is part of their charm. Her work is understated, yet intricate; straightforward yet deeply emotive.
More About Katie Sly: Born and raised on Vancouver Island, Canada, musician and author, Kaitie Sly, has been honing her musical talents since the age of 8. In 1996 she stepped on to her first stage and has been performing ever since. Now based in Los Angeles, Kaitie has worked as a session bassist, collaborating with artists, television composers and playing on award winning albums. She has been featured on the player spotlight of www.notreble.com and on Rolling Stone Magazine with her duo project, Syreim. She currently performs in the soul/rock group, The Khourys, and writes and performs for her self-titled solo project. Her duo project, Syreim, is set to release their debut EP in early 2017.
OFFICIAL LINKS: WEBSITE ► TWITTER ► INSTAGRAM ► FACEBOOK ► SOUNDCLOUD ► BANDCAMP ► YOUTUBE
Please follow and like us: